Transfer station assessment fee hike among proposals presented to Leavenworth County Commission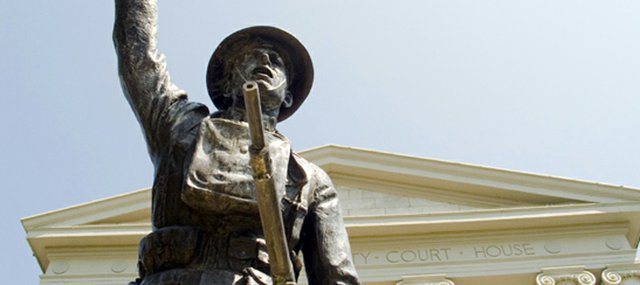 A sharp raise in the annual fee assessed to county residential lots was one suggestion presented Monday to Leavenworth County commissioners as a way to bring long-term stability to the county transfer station.
The proposal to hike the transfer station assessment to $85 a year from its current $13.52 rate was just one of three revenue enhancement proposals facility manager Mark Wilson presented commissioners. All were meant to keep the transfer station from operating in the red. The other two proposals shared at the work session would:
• Increase rates and assessment by 3 to 4 percent to reflect increased costs. The increase would provide no funds for repairs or improved operations.
• Raise rates to reflect increased costs and provide for a maintenance and capital improvements.
The work session was scheduled in wake of news last month that the transfer station lost its largest customer, Republic Services, at the cost of nearly $425,000 in annual revenue.
With that news, Wilson made cuts to the transfer station's staff and hours that become effective May 1. He also cut all capital and maintenance outlays to maintain the current solid waste disposal rate for 2011. He did propose raising the construction and demolition rate to $41.28 a ton while lowering the minimum charge to $13.50 for 1/3 ton.
However, Wilson proposed no fees increases if the $85 assessment fee was adopted. With nearly 30,000 households in the county, it would raise $2.5 million in yearly revenue for the transfer station.

In return for the fee increase, Wilson proposed county residents not be charged to bring solid waste to the transfer station.
If the change is approved, city of Leavenworth garbage trucks would not be charged a use fee, which is currently $31.80 per ton, because they haul only residential trash, Wilson said. Commercial haulers with a mix of commercial and residential trash and perhaps some out-of-county customers would get a reduced rate based on the percentage of in-county residential trash customers they serve, he said.
Wilson also proposed a reduced residential fee for hauling construction or demolition waste to the transfer station from the current $29 a ton to $37.10 a ton with the higher assessment. But he also said he could support eliminating the residential fee on such materials if the assessment was hiked.
Commissioner J.C. Tellefson said the proposal was "kind of interesting" but added discussions about enacting it would have to involve county cities and Fort Leavenworth.
One interest group sure to oppose the proposal would be landlords, who owned 65 percent of the residences in Leavenworth, Commissioner Clyde Graeber said.

Rent increases would be offset by lower trash rates it would be hoped the city of Leavenworth would approve with the elimination of the use fee, Wilson said.
Commissioners said they would discuss the proposal again Monday.
Commissioners exempted the transfer station from the county hiring freeze so that Wilson could hire a 3/4-time employee to replace a full-time staffer who will transfer to public works.
Commissioners also awarded a bid not to exceed $76,000 to Baker Construction of Leavenworth for concrete paving of the transfer station's lot and floor.