A life cut short
Connor Olson dies Wednesday after year-long battle with cancer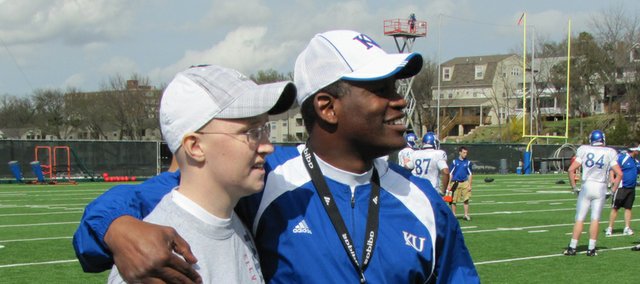 A battle with bone cancer that lasted more than a year has ended for a Tonganoxie High School senior.
Connor Olson, who graduated from THS during a special ceremony this past week, died just before 8 p.m. Wednesday surrounded by friends and family at his home, THS principal Jamie Carlisle said.
"You look at Connor and you look at his life and he has touched so many lives and so many people in so many different ways," Carlisle said. "He was a blessing to us all.
"And absolutely his physical presence will be missed, but he will always be with us in some capacity. The love that he was able to share while he was on this Earth is immeasurable. As a principal, as a father, but as a brother in Christ, I was very proud to know him through these last few days of his life."
Olson has been battling bone cancer for about a year, as it started in his right leg. His right leg and foot were removed because of the cancer. Later the cancer attacked his lungs and a hip. On April 11, Olson suffered a stroke.
— For funeral details, check back to our site in the coming days. And be sure to check back to the site for an opportunity to share memories of Connor, as well as condolences.