THS

baseball falls, 13-6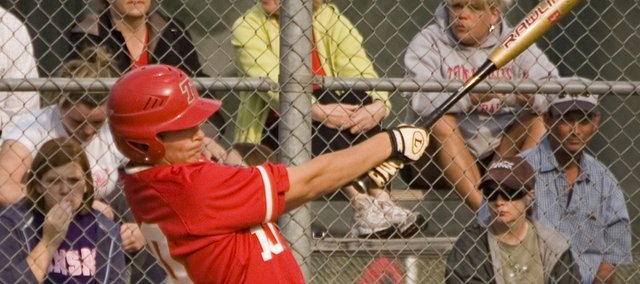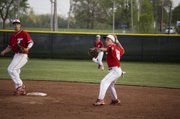 Although the Tonganoxie High baseball team hung around early, it couldn't keep pace with St. James Academy in a 13-6 home loss Wednesday evening.
The Chieftains never led but were down just one run after three innings at Leavenworth County Fairgrounds.
Two-run frames for the Thunder in the fourth and sixth, plus a huge, five-run effort for the visitors in the top of the seventh, however, were just too much for THS to handle as it dropped to 0-8 on the season.
Tonganoxie scored a pair of runs in the bottom of the second to cut an early SJA lead to 3-2. Dylan Puhr, who went 3-for-4 and drove in a run, led off the inning with a single to left field. Ethan Lorance followed with a double down the left-field line to give the Chieftains two runners in scoring position.
Corey Klinkenberg grounded out to short, but that plated Puhr. Following a walk by Austin Harkrader, Austin Hrabe laid down a great bunt to score Lorance from third base.
After a SJA solo homer in the top of third extended the THS hole, the home team got a run back in the bottom of the inning.
Jeremy Wagner reached on an error and then advanced to third on a single from Ben Williams, who finished 2-for-4. Although Brandon Yoder grounded into a double play, he drove in Wagner to make it a 4-3 ballgame.
Scoreless in the following three innings, Tonganoxie was down 10 runs entering the bottom of the seventh.
First, Dylan Caywood, then Wagner, drew a walk before Williams singled to left to load the bases.
Yoder came up with three teammates on base and drove in Caywood with a ground ball that ended with a force out at second.
With runners on the corners, Puhr delivered his third hit of the night and scored Wagner with a single to right field.
Lorance drove home the team's sixth run with a sacrifice fly to center.
Yoder started on the mound for the Chieftains, and except for a few mistake pitches (which led to three SJA home runs) and four walks, it was a promising showing. The senior right-hander pitched five and two-thirds innings, allowing seven hits while striking out nine.
Williams threw an inning of relief in the seventh and struck out two batters while allowing two earned runs.
Tonganoxie's next chance to get in the win column comes on Monday against Santa Fe Trail. A 4 p.m. doubleheader originally scheduled to be road games for THS has been moved to Leavenworth County Fairgrounds.