Remembering Connor Olson
Share your memories of Connor and offer condolences in the comments section of this story
After more than a year-long courageous battle against bone cancer, Tonganoxie's Connor Olson died just before 8 p.m. Wednesday at the age of 18.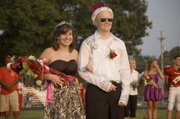 This past week, a special graduation ceremony took place for Connor in the Tonganoxie Performing Arts Center on the Tonganoxie High School campus where friends and family filled the auditorium. Several boxes of facial tissue were placed at the entrances of the auditorium, as the ceremony was an emotional time in which a photo slide show of Connor played, as well of footage of him talking about being positive and what a great place Tonganoxie is, calling it his own personal corner of Heaven. Recently, Connor also had the chance to meet Kansas University football coach Turner Gill and had the opportunity to address the Jayhawk football team.
Take time to share memories you've had with Connor or post condolences by posting in the comment section at the bottom of this story.