7-run loss wasn't all bad for Chieftains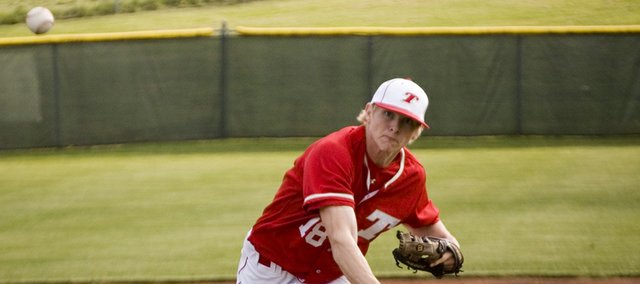 Photo Gallery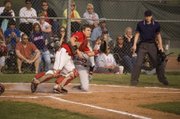 THS baseball loses to SJA
The Tonganoxie High baseball team lost 13-6 to St. James Academy on Wednesday at Leavenworth County Fairgrounds.
Don't let the scoreboard or the record fool you.
Tonoganoxie High baseball coach Phil Loomis saw signs of life in his team during a 13-6 loss to St. James Academy that dropped the Chieftains' record to 0-8 for the season.
Wednesday's home game might have ended as a seven-run loss, but Loomis saw a spark in his team's approach. Facing a talented SJA team, THS only trailed 4-3 after three innings. It actually felt like a ballgame — "first one all year," the coach noted.
Loomis said he and his staff couldn't help but notice the negative vibes surrounding the team in the previous few weeks. As losses piled up and possible wins slipped away, morale plummeted.
But something changed in the dugout against St. James, and it started with the players' approach.
"They actually felt like they wanted to win one," Loomis said.
Senior center fielder Dylan Caywood, who was 1-for-3 and scored a run in the loss, said the Chieftains had a different mindset because starting pitcher Brandon Yoder gave them confidence.
"Yoder came out throwing strikes and that's what we need," Caywood said. "There's not much you can do when your starting pitcher walks the first three batters and the next guy makes an error. Everybody just gets down.
"He came out throwing strikes and we felt like we had a chance to win."
That confidence was a welcome sight to Loomis.
"It was a wholly different attitude tonight," he said. "You could see it in their eyes."
At times this season, Loomis said, it seemed like players didn't care, didn't want to be there.
Caywood said that was because they were getting frustrated with their struggles.
"We've started off every game where it's close and we have one inning where they score eight runs and it's a blowout," he said of a typical game this year.
Something close to that happened against SJA. The Thunder plated five in the top of the seventh to take a 10-run lead.
But Tonganoxie didn't throw in the towel. In the bottom of the seventh, the Chieftains did what they could to remain positive and that resulted in three runs.
Caywood and Jeremy Wagner led off the bottom of the seventh with walks. Then Ben Williams singled to load the bases.
Yoder was able to drive home a run with a grounder that ended in a fielder's choice. Next, Dylan Puhr, who busted out of a slump with a 3-for-4 day at the plate, plated another run with an RBI-single. Finally, Ethan Lorance scored Yoder with a sacrifice fly.
It wasn't enough to give the game a different outcome, but it gave THS a worthy note on which to end.
"We've had some people step up and really do some good jobs," Loomis said. "It was a very positive night."
Just as the players were enthused by Yoder's pitching early in the game, so were the coaches.
"Last year our first two wins at regionals were Lorance and Yoder pitching," Loomis pointed out. "This year they haven't looked like the same pitchers. Well, tonight we saw one of those pitchers."
That gives the team a chance.
As Caywood said, "We've played good ball for half of every game. Once we put it together, we're gonna be all right."
And that gives the entire team a newfound hop in its step.
"It's kind of been coming across as a drag," Loomis said of the games leading up to this one. "For the first time, I think everybody's enthused to come back to practice tomorrow."
THS plays host to a doubleheader with Santa Fe Trail at 4 p.m. on Monday.