Chieftains show a bit of everything in sweep
THS

flexes muscles, plays small ball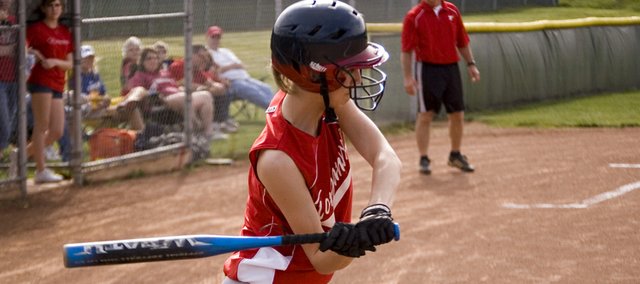 The Tonganoxie High softball team used contrasting approaches — both successfully — in a sweep of Turner on Tuesday.
The Chieftains had plenty of offense in an 8-2 victory, then went small ball late in the second game at Kansas City, Kan., to earn a 5-2 win.
THS (5-5) went scoreless in the first four innings of the second victory before coach Lee Matzeder told his team it was time to try something different.
"At that point it was 2-0, we were down," Matzeder said, "and I told them if we get someone on, be ready to bunt and they did a great job."
Tonganoxie cut the lead in half by scrapping in the top of the fifth inning. Haley Smith reached on an error and moved to second base on a sacrifice bunt by Kailan Kuzmic.
Another sacrifice bunt, this time from Hannah Kemp, moved Smith to third base, and Brooklyn Kerbaugh drove her home with a double.
After a scoreless sixth, the Chieftains finally got going in the top of the seventh and poured on four runs.
THS went right to business when Makayla Leslie was hit by a pitch. Courtesy runner Amanda Holroyd then advanced to second base on a passed ball.
Next, it was back to small ball as Smith moved the tying run closer to home with a sacrifice bunt.
It was more of the same when a Kuzmic bunt made it a 2-2 game.
With two outs and nobody on, Kemp set off a go-ahead rally by singling and stealing second base.
She was able to score and give Tonganoxie a 3-2 lead when Kerbaugh put the ball in play and Turner committed an error.
Finally, Kaitlyn Wolken ended an 0-for-3 skid in the game by sending a two-run shot out of the park.
Matzeder said those two insurance runs were crucial.
"Kaitlyn was struggling against this pitcher up to this point, but found a way to come through when we needed it most," he said.
The coach was impressed by the seventh-inning heroics.
"This was a total team effort and big inning for us after struggling the first six inning to get hits and bunts down," he said.
The Chieftains remained close throughout the win thanks to their pitchers. Senior Nikki Pennington started and went four innings, giving up just four hits and allowing two runs before Angela Jacobs came in and earned the win with three innings of shutout work.
Tonganoxie 8, Turner 2
With 11 hits and eight runs in the first win, small ball wasn't necessary — though it could have worked thanks to a complete game from starting pitcher Tiffany Jacobs, who only walked two and struck out five.
THS took an early, 1-0 lead in the top of the first when a Lindsey Fatherley single drove home Wolken after she doubled off the center-field wall.
The biggest inning for Tonganoxie was the third, when it plated three runs. Kerbaugh reached on an error, Wolken was hit by a pitch and Fatherley got her second of four RBIs in the game with a double.
Angela Jacobs followed that up with a two-run single.
In the top of the fourth, Fatherley's two-run homer marked the first time a Tonganoxie player had hit one out all season.
The Chieftains added two more runs in the sixth, when Kemp doubled, Kuzmic reached on an error and Kerbaugh singled.
Halfway through the schedule, Matzeder is pleased with where THS stands.
"5-5 is so much better, mentally, than 4-6 or 3-7," the coach said.
Tonganoxie doesn't play again until Thursday, when the team travels to Perry-Lecompton for a 4:30 p.m. doubleheader.