No time to celebrate for
THS

baseball
Blown lead diminishes importance of 1st win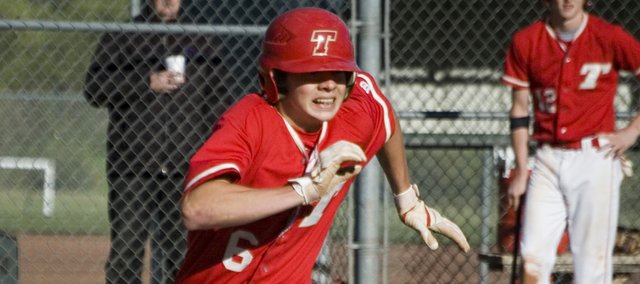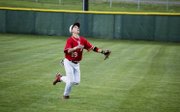 Even the first victory of the season wasn't enough incentive for celebration as the Tonganoxie High baseball team left Leavenworth County Fairgrounds on Monday night.
The second part of a twinbill with Santa Fe Trail, which the Chieftains lost 9-8 in eight innings, was too disappointing for anyone to latch on to the positives of a 5-3 victory from a few hours earlier.
THS (visitors on the scoreboard because the games were originally scheduled to be at SFT) had a three-run lead with two outs in the bottom of the seventh before the Chargers tied the game, 8-8, to force an extra inning.
Even though Tonganoxie (1-9) finally got in the win column, there wasn't any silver lining for coach Phil Loomis. Even the victory had its low points.
"Game one wasn't a whole lot different," Loomis said, referring to a late rally and run in the bottom of the seventh of a two-run win. "We gave up a big inning late — almost let them come back."
Ethan Lorance, who threw a complete game in the THS victory, had a good night. He struck out 12 in seven innings of work on the hill, allowing just four hits and one earned run and finished the doubleheader 5-for-7 at the plate.
"I finally got my bat back. I've been in a big slump this year," Lorance said of his .207 batting average entering Monday.
Still, the junior was disappointed in how the Chieftains performed as a team. Even when they took a four-run lead in the fourth inning, Lorance thought they didn't have enough intensity.
"I could see it coming the whole game," he said of the fizzling finish.
When one person steps up, Lorance said, others have to follow suit.
"It's like coach said, 'You can't get anywhere when you take one step forward and one step back,'" Lorance related.
It's the lack of execution on simple things, Loomis said, that is keeping the team from improving. The coach primarily wants to see more control from his pitching staff.
"Our pitchers have to learn to throw a first-pitch strike and things work well," Loomis said.
At times this season, the coach said, pitchers have been considerably off the mark with fastballs, which frustrates everyone involved.
But mistakes aren't exclusive to pitchers. Loomis was equally disappointed in the amount of called third strikes Tonganoxie batters have watched go by.
"I don't know if we're weak mentally or whatever. We just make mistakes that at the varsity level just can't be made," Loomis said. "I don't know where we're headed. It's about as frustrated as I've been in 30 years."
The frustration isn't solely due to the team's losses either. Loomis said he likes the motto: "I'd rather play well and lose than play poorly and win."
He said the Chieftains have to recognize that major strides need to be made in the areas of consistency and focus.
"When it's time to make that little push," Loomis said, "we struggle for it."
Dylan Puhr was the starting pitcher in the second game and threw six and two-thirds innings before Dylan Caywood entered for an inning of relief.
Brandon Yoder went 2-for-4 in the loss. Caywood, Jeremy Wagner, Ben Williams and Puhr all had one hit.
Wagner and Yoder both scored twice.
Tonganoxie begins play in the Butch Foster Memorial Baseball Classic at noon Thursday against Spring Hill at CommunityAmerica Ballpark, in Kansas City, Kan.