So long, Coach J
TMS

boys track coach Jeannin close to retirement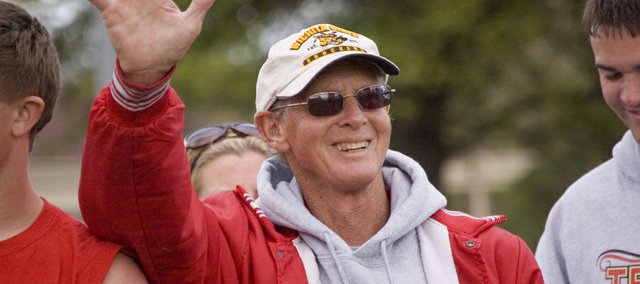 For 37 years, Phil Jeannin has coached track at Tonganoxie Middle School.
But there were neither signs of wear nor tear on him Monday at Beatty Field, when he coached his final home meet.
At 60, and quickly approaching his retirement from coaching and serving as the middle school's athletics director, Jeannin is as lively as ever, running back and forth between events. There's a youthful exuberance about the longtime TMS boys track coach, who will call it quits at the end of the school year.
He said that spunk — of which he seems to have a never-ending supply — might come from the Coke he drinks every day (even though people routinely tell him it's not healthy for him to do so).
"Well, if I'm gonna die, I'm gonna die drinking a few of the things I like," he will teasingly respond.
According to Jeannin, he has never been someone who needed a whole lot of sleep, which comes in handy when coaching teenagers.
"You have to be able to act like the kids, too, a little bit. Have a little bit of their actions and behaviors, too," he said.
Known as "Coach J" to many, Jeannin grew up in Jarbalo and has lived in Tonganoxie for 38 years. He spent one year teaching in Herington before coming to TMS. In his time working in the district, Jeannin has coached TMS football, boys and girls basketball and even served as JV girls basketball coach at Tonganoxie High.
But the bulk of his time has been spent working on and around the track. THS boys track coach Phil Williams has worked in Tonganoxie with Jeannin throughout his tenure and said the outgoing coach has had an immeasurable impact on the community.
"I have never spoken to anyone who doesn't absolutely love Phil Jeannin," Williams said.
Count TMS girls track coach LeAnn Bond, who once was a student of Jeannin's, as one of the many admirers. She noted Jeannin often receives invitations to graduations, wedding and events from former students
"He has been a positive role model for all types of students and athletes," Bond said. "He does have a big heart and it shows."
Williams, Coach J's longtime cohort, praised him for his philosophy, which chiefly has been to help kids.
Jeannin said he probably never could have been a head coach at a higher level because winning never was his biggest concern. He has always gotten more enjoyment out of another part of coaching.
"To me the main thing was making sure they (the athletes) had fun. I think I always tried to make sure kids enjoyed themselves and felt good about themselves when they were done with their activities," he said.
One of the biggest highlights of his long career as TMS coach, Jeannin said, has been getting the chance to coach second-generation athletes — the children of athletes he coached years before. That has been one part of the many strong relationships he has built in Tonganoxie's small-town setting.
"Staying in a smaller community, you get to know everybody so much better. I can't think of any other place I'd rather been," Jeannin said. "…That's gonna be the hardest part — missing the kids and the teachers and stuff that you're around every day, because you won't see them as often."
And it might be even harder, Williams said, for Tonganoxie to find someone who can match Jeannin's expertise and enthusiasm.
"It will be extremely difficult, if not impossible, to replace him," Williams opined. "The Tonganoxie school district has been fortunate to have him for so long, and we will all miss him, as a friend and as a fellow educator."
Bond echoed those thoughts.
"He has been my mentor and friend," she said. "We will be lost without him and all of his positive effect on this school."
But Jeannin certainly won't be out of sight when his retirement comes. He'll still work the clock at basketball games and told Bond he will gladly serve as a clerk at meets.
Plus, Jeannin will be working with the Tonganoxie Recreation Commission. So don't be surprised if you see him at a ballpark, track or gym working with the zest of a much younger man. After all, this is only "semi-retirement," he said.