Leavenworth County administrator looking at bleak revenue picture as budget process starts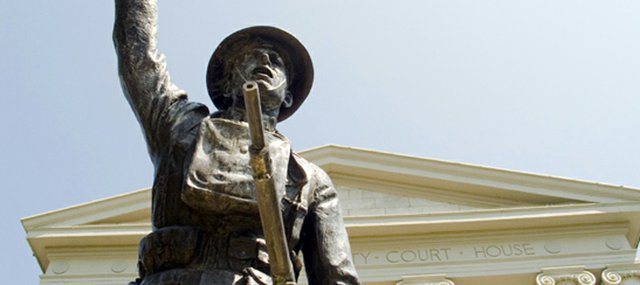 The Leavenworth County commissioners reconfirmed Monday their marching orders to County Administrator Heather Morgan to bring them a 2011 budget with no mill levy increase.
With that in mind, Morgan had already asked county department heads to prepare budgets with 5 and 10 percent spending reductions with the overall goal in mind of maintaining the current mill levy.
"I think the budget process is going to be extremely difficult," she said. "With resources we have we're going to be experiencing the same pain families and other government entities are feeling. We're going to have difficult decisions to make."
Wherever she looks, the revenue situation is the same, Morgan said. Revenues are down or flat.
The Kansas Department of Revenue figures show the county's first quarter sales taxes are down 5 percent from 2009 — not a desperate decline, but clearly not what the county hoped for, either, she said.
Early last month, Leavenworth County Appraiser Bob Weber told county commissioners the county's appraised valuation increased $7 million in 2009. But he said that was from a new school in the Basehor district that would be exempt from taxation.
With that news, Morgan is hopeful the county's assessed valuation will be near last year's level when the figure is released in June.
Resolution will start on one big remaining question — what the county can expect from Topeka — when Kansas Legislature returns to Topeka for its wrap-up session.
In addressing the state's budget shortfall, the Legislature has already raided highway money shared with local governments, Morgan said. It also took away "the slider" meant to compensate local governments for legislation exempting business equipment from property taxes, although there was an unsuccessful move this year to restore the money, she said.
State grant money also was declining, Morgan said. The county health department has seen that revenue source fall from $413,000 in 2008 to $314,000 this year.
"That's $100,000," she said. "That's 10 percent of the health department's $1 million budget."
The financial crisis has decreased the money the county receives from interest from $1.1 million in 2008 to $244,000 in 2009, and planning and code fees fell from $100,000 in 2007 to $60,000 in 2008.
Morgan told commissioners Monday most county departments could absorb the 5 to 10 percent cuts and provide near the same service, although it might not be as quick.
Commissioners have said as resources get stretched and the county focuses on its statutory requirements, there may be non-essential functions that are dropped entirely. The dust control service has been cited as one example of a program the county no longer offers.
With the budget she presents in May will be a list of any positions eliminated, Morgan said Monday.
Commissioner Clyde Graeber said it might be better to furlough employees. That would save the county the expense of retraining employees when the economic times improve, he said.