Remembering 'Running Bear'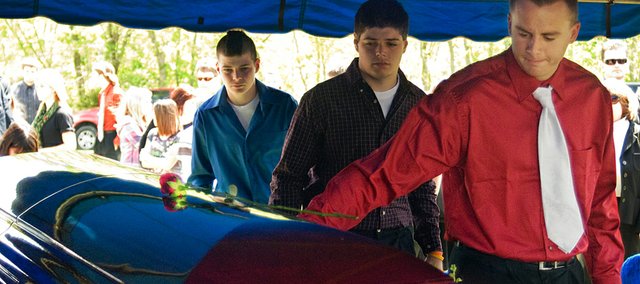 There was a chance — albeit a slim one — that AC/DC's heavy metal anthem "Back in Black" was to be performed Tuesday in the Family Life Center at Tonganoxie Christian Church.
After all, that was Connor Olson's favorite song, according to younger brother, Quinten. Tonganoxie High School principal Jamie Carlisle, who played in the praise team that performed songs Tuesday at Connor Olson's funeral, told the estimated 800 in attendance that they were going to try to play Connor's favorite song.
"Well, we tried," Carlisle said. "It wasn't gonna happen, dude."
The response was met with laughter, which in essence was what Connor's father, Martin Olson, wanted Tuesday's memorial service to be all about — friends gathering to celebrate Connor's life.
Connor died Wednesday, April 21 following a hard-fought bout with bone cancer.
He was 18.
Connor was diagnosed roughly 13 months ago, and since then had gone through a leg amputation below the knee and had to battle cancer spreading to his hip and lungs.
But as Connor dealt with obstacle after obstacle, he never lost sight of looking on the bright side of things.
After receiving a prosthetic leg, it quickly was used as a kicking tee for football and later a tripod while shooting at hedge balls for target practice with a rifle, Rev. Dirk Scates noted while addressing those in attendance.
Remembering Connor
Connor suffered a stroke earlier this month and was told he had two weeks to live. Days later, Connor received his diploma during a special graduation ceremony in the Tonganoxie Performing Arts Center. One of his friends, Lindsey Fatherley, spoke about congratulating Connor after he earned his diploma and that he was lucky because he didn't have to attend school until graduation next month like the rest of his class.
With the back of his hand facing Fatherley, Connor made a gesture and said, "Respect your elder," Fatherley recalled, again generating laughter at the service.
Roughly a year after Connor's friend, Jeremy Elliott, died in his sleep from a heart condition, Connor's service took place in the same church. Though laughter filled the Family Life Center at times during Tuesday morning's service, friends and loved ones couldn't help but console each other as another Tonganoxie youth's life was cut short.
But Martin Olson said his son's death was not a tragedy, as a tragedy is filled with despair and blackness. Rather, Connor's story was filled with hope and perseverance.
One of Connor's favorite quotes, that of Winston Churchill, was testament to that perseverence: "Never, never, never give up."
Fair is fair
Some will say "it's not fair," regarding the hand of cards Connor was dealt, but Martin said the response in his family is the mantra "The fair's in August," referring to the annual Leavenworth County Fair in Tonganoxie.
He also reminded folks that they all have to deal with life's challenges whatever they may be and that "we are rich" based not on worldly possessions, but our relationships with each other.
"It's more precious than gold," Martin said about those relationships with family and friends.
While talking about his son, Martin noted his jokes "were as dry as the dessert" and recalled when Connor was just a few years old and they were attending meetings that were a precursor to Cub Scouts.
Connor's assignment for his next meeting was to create his Native American name.
He told his father with excitement that his name would be "Running Bear."
Asked what Martin's name would be, Connor responded with "Talking Tree," once again triggering a chorus of laughter.
Speaking of running, Connor had crafted plans to race THS athletics director Brandon Parker one day. According to a story by Jamie Carlisle, Connor told Carlisle's son, Jeremy, that he would defeat him in a one-on-one race in heaven.
"When I get there, I'm gonna be a young man," Jamie said, relating the story. "When you get there, you're gonna be an old man. I'm gonna whoop you."
A true American hero
Connor was quite the jokester, but he also was a living legend to Tonganoxie Elementary School students.
Through the THS leadership class, Connor and other THS students worked with TES students and offered various "Character Cards" for students as a way to help them in their studies and instill a positive message. The cards featured various THS student-athletes with encouraging words. Connor's card was graced with the word "courage."
Parker recalled a time when Connor, as well as fellow leadership class students Jeremie Maus and Jeremy Carlisle, acted a scenario to students to show how not to act on a school bus.
"I wish we had video," Parker joked.
When studying various American heroes, one elementary school class was asked who their heroes were.
They all answered "Connor," according to Parker.
"Daniel Boone's got nothing on Connor Olson," Parker said.
The THS athletics director closed his tribute to Connor by encouraging everyone to follow a list of four "Connorisms:"
• Be positive.
• Help each other.
• Life is precious. Don't waste precious time with drama.
• When life's a little dark for you, pull out your very own Connor Courage Card.
A couple weeks before Connor's death, he had the opportunity to tour Kansas University's football facilities and meet coach Turner Gill. The first-year KU coach introduced Connor to the team and requested an impromptu speech.
Portions of the speech, which also appear on the official KU football blog, were played at Tuesday's service.
"It's not too often you get to speak at your own funeral," Scates said.
As friends and loved ones filed out of the Family Life Center, a processional of vehicles made its way to Hubbel Hill Cemetery for burial. Rev. Francis Stockton, minister at Tonganoxie United Methodist Church, officiated the burial.
Family and friends then returned to the Family Life Center. Team Tongie, the organization established partly because of Connor's battle with cancer, served the meal.
The organization's slogan is "sometimes you don't need a miracle, you just need each other."
Tuesday, hundreds of people saying goodbye to Connor were reminded of just that.