Braves, Bobcats ready for battle in Butch Foster Memorial Classic
Maybe the third time is the charm for Bonner Springs High School in the Butch Foster Memorial Baseball Classic.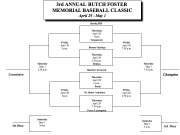 BSHS established its home tournament three years ago at CommunityAmerica Ballpark to honor the late Butch Foster Sr. for work he put into the community's youth baseball programs.
"Butch Foster and his family have been instrumental in Bonner Springs with baseball for kids," first-year BSHS coach Barry Richards said. "I think it is important to honor the unsung heroes who help youth through sports."
The tournament has been a success in its first two years. Still, the Braves have been unable to advance to the finals. Spring Hill won the inaugural tournament . St. James Academy took the 2009 title .
This year, Bonner Springs has hopes of contending for the championship.
Four teams from the Kaw Valley League — BSHS, Basehor-Linwood, Perry-Lecompton and Tonganoxie — make up half of the field. Spring Hill, St. James, Holton and Paola also are back again this year.
Basehor-Linwood, too, hopes to use the tournament as a springboard to the latter half of the season. The Bobcats enter having lost three in a row and are looking to turn their season around.
"I think we're very close to breaking out as a team and playing our best baseball of the year," BLHS coach Dave Svoboda said. "We just have to keep working hard and staying focused on getting better one at-bat, one inning, one game at a time."
For Basehor-Linwood, the tournament has added importance. The Bobcats will play in the Class 4A regional at CommunityAmerica Ballpark in late May so they hope to use the classic to get comfortable playing in the large stadium.
St. James Academy will be in the same regional with BLHS, and the Thunder have the same long-term goal while trying to defend their tournament championship.
"You could argue that we get our best crowds out there," SJA coach Brian Bucklin said. "Our community comes out and supports us when we're out there. It's fun. You get to play in front of people in a nice ballpark and hopefully win. Hopefully we can have some success this weekend and carry it on once we get to regional time."
The tournament kicks off at noon today with Spring Hill playing Tonganoxie. Bonner Springs will face Holton at 2:30 p.m., Basehor-Linwood will play Paola at 5 p.m. and St. James will close the day with a 7:30 p.m. game against Perry-Lecompton.
— Chris Wristen and Nick Bratkovic contributed to this report.