Chieftains battered in
BFMBC

opener
Broncos' 9-run 2nd demoralizes
THS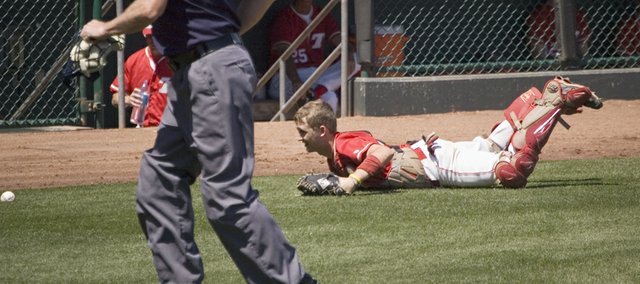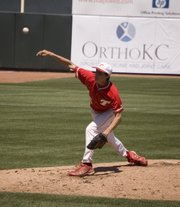 Kansas City, Kan. — A demoralizing second inning put a stop to any notion the Tonganoxie High baseball team had of upsetting Spring Hill on Thursday afternoon.
The Broncos plated nine runs before the Chieftains could record an out in the bottom of the second and won in a five-inning rout, 15-5.
The first 12 batters for SHHS got on base in the nightmare inning for Tonganoxie before Dalton Harrington entered in relief with the bases loaded and helped his team out of a jam.
THS (1-10) got out to an early, 5-4 lead in the top of the second at CommunityAmerica Ballpark, in Kansas City, Kan., before Spring Hill knocked the wind out of the Chieftains in the opening round of the Butch Foster Memorial Baseball Classic.
A two-run second inning for Tonganoxie started with some good fortune — the last the team would see for a while — when Austin Hrabe reached first base on a strikeout.
Senior Dylan Caywood, who went 2-for-3, followed that with a single to left field.
Jeremy Wagner moved the runners into scoring position with a sacrifice bunt before Ben Williams, who was 2-for-2, drew a walk to load the bases.
The Chieftains tied the game, 4-4, when Dylan Puhr got a base on balls, and Caywood scored on a wild pitch to give his team its second brief lead of the game.
Tonganoxie got off to a great start in the top of the first and was up 3-0 before things fell apart.
Caywood knocked the first pitch of the game into center field for a single before Wagner and Williams followed with base hits of their own, Williams' driving in the leadoff man.
Ethan Lorance, who went 2-for-3, singled to center field after Wagner scored on a wild pitch. Then Williams (who was at third base) and Lorance pulled off a double steal to put THS ahead by three.
Harrington's relief effort was one of the few bright spots for Tonganoxie on a tough afternoon. The sophomore faced eight SHHS batters, allowed two hits and a walk, recorded one strikeout and gave up no runs.
A few Chieftains who don't see a lot of varsity playing time were able to get some experience Thursday. Dylan Fosdick was in the starting lineup at first base and freshmen Brett Shelton and Cody Saladin entered the game off the bench.
THS will be back at CommunityAmerica Ballpark on Friday evening at 5:30 p.m. to play in the tournament's consolation semifinals. The Chieftains will face the loser of a first-round game between Bonner Springs and Holton.