Leavenworth Country Club under new ownership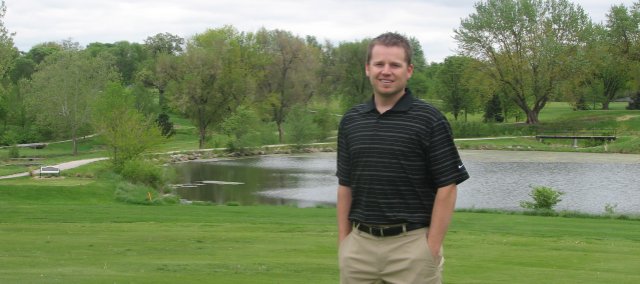 A 90-year-old part of the Leavenworth County community is in the process of a major facelift.
Leavenworth Country Club has been taken over by GreatLife Golf and Fitness, a Topeka-based company with nine other country clubs in Kansas established 25 years ago.
"We're very happy about the location," GreatLife President Rick Farrant said of the clubhouse and 18-hole golf course at 455 W. Eisenhower Rd. in Lansing. "It has a great atmosphere. The golf market has been a little stagnant lately, and we are making use of (Leavenworth Country Club's) best assets."
New ownership means a lot of renovations, all of which are drawing much excitement from GreatLife and Leavenworth Country Club. The bar and grill inside the clubhouse, now known as Jake's, has been remodeled with a sleek bar and new menu. Rather than restricting the restaurant's service to members only, GreatLife has made it open to the public during all business hours.
"We're not only restructuring the building, we're restructuring the environment here," said Jake Farrant, Leavenworth Country Club's general manager and GreatLife representative. "We concentrate on being family oriented at all our locations, going from members only to all families and all ages."
In addition to the new, public dining, the club will soon have a 7,000-square foot fitness center housing flat-screen televisions and a complete collection of exercise equipment. Taebo, spinning and various other fitness classes will be available at no additional cost to members, and 24-hour access will be available through a membership key card. While both eating and slimming, members will be able to take in the views of the championship-style golf course, as Jake says all the refinishing keeps the course's beauty in mind with large, showcase windows. The pool, tennis courts, banquet room and locker rooms will also be entirely refurbished to create an updated, inviting place for existing and new members.
"We're trying to have something for all ages, from golfing to swimming lessons for adults and kids to a new sand volleyball court where we'll have co-ed tournaments," Jake said. "We want to bring an affordable experience to every family. You don't have to own a $100,000 house to be a member here."
Leavenworth Country Club's new membership rates will be $99 per month for an entire family or an individual to play unlimited golf with access to all other amenities. For non-golfing members, the cost is $29 per month to enjoy the pool, fitness area, tennis courts, etc. Initiation fees are $50, and Jake says any interested members who mention this newspaper article will receive $25 off that fee or a free appetizer with a $10 purchase in the bar and grill. Each Leavenworth member is also considered a member at each of GreatLife Golf and Fitness' other facilities.
"If you're a member here, you're a member of GreatLife everywhere," Jake said. "You're part of the GreatLife family."
Though the country club is undergoing many changes, Jake said GreatLife started with a spectacular product, one that will be even better with some polishing.
"This place was in such great shape when we came in," he said. "We're changing the aesthetics, but the strong foundation is still there."
For more information about GreatLife Golf and Fitness or Leavenworth Country Club, go to greatlifegolf.com or call (913) 727-6600.