Realtor says Tonganoxie Post Office offers flexible space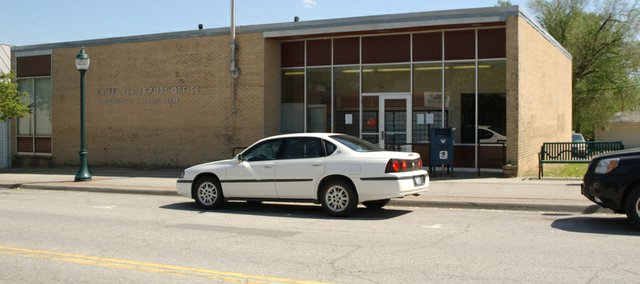 It has 2,808 square feet, an interior flexible for remodeling, a loading dock in the rear, has been the heart of the community for nearly half a century and can be yours for $180,000.
The building is the Tonganoxie Post Office, which the U.S. Postal Service will abandon in about a month.
Tonganoxie Postmaster Rob Hubbard said the goal is complete the move in about a month from the building the Tonganoxie Post Office has occupied since 1962 to the new site at the southeast corner of Laming Road and Woodfield Drive, just north of U.S. Highway 24-40.
"We hoping by before June 1. That's what we're hoping for," he said. "We haven't got the keys to the new building yet. We expect to get them next week and then we can start moving our stuff in.
"We have to have all our people look at it and tell us it is ready."
Jim Edmonds, an associate broker with Reece & Nichols Premier Realty who is handling the building's sale, said he was representing an out-of-state family.
According to information available on the Leavenworth County Appraiser's Office Web site, the property and building are owned by the Robert C. and Bennie Joyce Ford Trust of Russellville, Ark.
The U.S. Postal Service's lease on the building expires May 1, but Edmonds said the owners were working with the Postal Service and would extend the lease on a short-term basis as needed.
Edmonds said at least one corporate entity has expressed interest and toured the building. But he knew little of its interest other than that, he said. He has recently been granted permission to take clients on tours of the building.
Possible re-uses that occur to Edmonds were an office or suite of offices, medical facility or retail store. A freestanding structure with no interior bearing walls, the building could be remodeled into "almost anything," he said.
"I think it's zoned historic business," he said. "Anything the city would allow, could go in there. If a store would go in there, it already has a nice glass front.
"There's nice parking behind with a loading dock."
The current postal building is already on the tax roles. The appraiser's office has the building listed as a commercial property with an appraised value of $86,000.
Look for more on the post office's coming move and possible uses of the old building in the May 5 Tonganoxie Mirror.