Leavenworth County Fair parade tradition for Boling 4-H family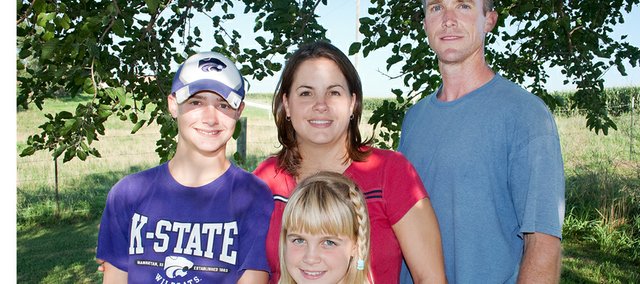 Every year youth members of the Boling 4-H Club have an annual tradition in preparation for the Leavenworth County Fair.
In addition to putting the finishing touches on their other projects, these 4-H'ers, including Austin and Alyssa Foley, get ready for the fair by completing the club's float for the Leavenworth County Fair Parade.
This year's theme for the float is: "A Little Bit Country/A Little Bit City."
Austin, 12, said half of the 8 foot by 20 foot trailer will have a country scene with a barn and dirt road and the other half will have skyscrapers and paved roads.
"This float shows that you don't have to be a country family to do 4-H," said Carrie Foley, Austin and Alyssa's mother.
As to almost prove his mother's point, Austin's fair projects combine traditional 4-H activities with the more modern 4-H.
This year, Austin will be showing his limousin steer as well as constructing and launching a rocket and showing off his carpentry skills.
This will be his fifth year in the fair and his second year showing steers.
He cut his teeth on bucket calves, but truly enjoys showing steers.
"You get to see it all pay off at the end," Austin said about showing steers. "In the beginning they are ornery and stubborn but at the end they're puppy dogs. It's awesome."
Austin's steer this year is GC, who is named after the man who sold them the steer.
"When we call him he'll answer the phone 'this is the governor of Kansas,'" Austin explained. "His name is Chris so GC stands for Governor Chris. That steer can be just as ornery as Chris."
Austin hopes to continue with the success he's had over the years. He's won several ribbons and a grand champion in consultation and a grand champion in limousin steer.
He said he's run out of space on his shelf for his awards so his woodworking project this year will be a trophy case.
Alyssa is following in her brother's footsteps. This will be her third year showing at the fair.
Like her brother, she is getting her start by showing bucket calves. Her calf this year is Bambi.
She spends at least an hour each day taking care of it and feeding it and three days a week she grooms him.
"He's starting to get more relaxed around me," Alyssa said.
She will also be entering her "puppy survival kit" food basket, filled with sugar cookies, brownies and people chow.
But no matter what project they are working on, Adam Foley, Austin and Alyssa's father, is just glad they are learning life lessons that will stay with them for the rest of their lives.
Carrie agreed, noting that not many youths get up in the morning to feed and take care of animals not just in the summer, but during the school year, too.