Power switch: New weight room at
THS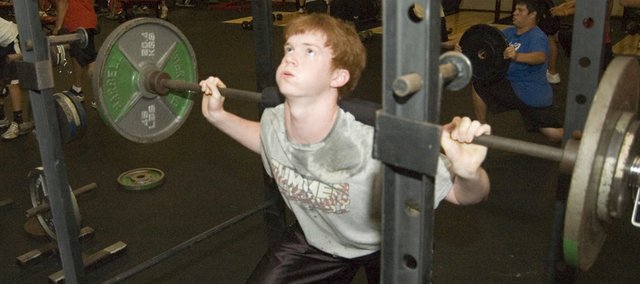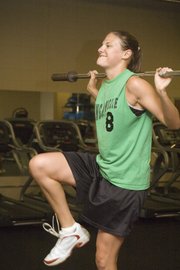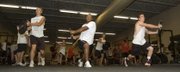 Tonganoxie High's summer strength and conditioning program might have seemed a little easier this year thanks to a facilities upgrade.
Offseason warriors won't be the only Chieftains to benefit from the school's new weight room, located upstairs, adjacent to the basketball gym in the THS east campus building. But they were the first to use the new digs.
In the past, the school's weight room was on the west campus, but the Tonganoxie athletics department outgrew the space. That made it necessary, athletics director Brandon Parker said, for the weight equipment — plus new conditioning machines acquired through the district's Carol M. White PEP Grant — to be relocated to a space originally designated as the THS wrestling room when additions were made to the school in 2004 as part of a bond issue. The switch moved Tonganoxie's wrestling headquarters back to its former home in the fieldhouse, south of Beatty Field, where renovations have been made.
Parker said the old weight room had two problems: It wasn't big enough and it lacked climate control. Not only were large workout groups crammed in an uncomfortably warm area but humidity also led to rust on pieces of equipment.
"We had no other alternatives to go with that satisfied the needs of space and air control," Parker said, adding accessibility to locker rooms and the main gym also made relocating a logical decision.
Cardio machines began arriving in the spring and THS staff started moving equipment from the old room to the new area at the end of the school year. Mirrors were installed on the walls at the end of June and other than a few cosmetic features, such as new paint, the new weight room is fully functional and was used by anywhere from about 115 student-athletes a day this summer for the offseason strength and conditioning program, which just wrapped up Thursday.
As Tonganoxie coaches Matt Bond and Paul O'Neil, assisted by other THS athletics staff, put Chieftains and middle school students through workouts, the biggest advantage of the new weight room was obvious.
"We can get a lot more kids in here working at one time," Parker said. "We don't have to split them up and some go one place and some go another."
Senior Molly O'Hagan said athletes really did prefer working together.
"Especially last year, we were broken up a lot into different groups," she said. "When everyone's in here working together, it makes it a little easier."
Bond said the new space was advantageous for the offseason workouts, because the sessions became far less constrained.
"Number one, it's safer. You've got more room to operate," he said. "When you had over 35 to 40 kids in the other weight room, you just didn't have the square footage."
According to Bond, average attendance numbers for workouts, which were three days a week in June and July, were 45-50 seventh- and eighth-graders, about 40 THS boys and 30 THS girls.
However, Bond pointed out, the new weight room will be just as important during the school year, when it will have an even larger impact on the THS population.
"The biggest thing is just the sheer number of students we can plug into our physical education classes," Bond said, noting there are nine strength and conditioning classes scheduled for the upcoming semester.
For those classes the new cardio equipment, which wasn't a focus of summer work, will be more utilized. Bond said the beauty of all the room's goods is that there was no purchasing involved. The cardio machines came from federal grant money, there was no new strength equipment to buy and Tonganoxie Middle School instructor Chris Weller built five new platforms for weight-lifting, which saved the school money.
The bigger space — if every piece of equipment was in use at once, about 70 students could be working out — has been a hit with the athletes, too.
"Teams are excited to get in and work together," O'Hagan said. "It's just a great environment."