Tonganoxie teammates set to become soccer foes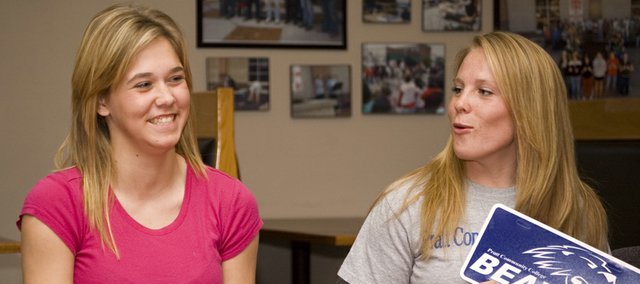 As charter members of the Tonganoxie High girls soccer program, Taylor Colgrove and Lauren Williams had grown pretty close. So much so that when the two of them came together for a college signing ceremony in May, Colgrove knew she could get away with ragging on her teammate.
Proudly wearing a Pratt Community College T-shirt, Colgrove heckled Williams, asking her why she wasn't showing off any Neosho County Community College gear. Williams playfully rolled her eyes and pretended she couldn't hear her THS teammate, who soon will be a junior college soccer foe.
The banter had been ongoing, Colgrove said, with running jokes being thrown back and forward between the two teammates. Even their new coaches, PCC coach Jerrid Schicke and NCCC coach Damon Solomon, had got involved, she said.
"The Neosho coach makes fun of my coach because it's a first-year program," Colgrove related. 2010 will be the inaugural year for women's soccer at Pratt and the Neosho contingent has joked the newbies shouldn't expect much success this year.
The good-natured trash talking came easy for Colgrove and Williams, who are looking forward to seeing each other on the pitch in different uniforms. After spending the past four years as Chieftains teammates, Colgrove and Williams will square off as opponents this fall, when Pratt plays host to Neosho on Oct. 14.
Williams said the two could go one-on-one in the match — "She plays defense, I play offense," she noted — which would be an exciting scenario for the two friends.
Colgrove is anticipating plenty of chances for the duo to combat, because she plays on the left side defensively, while Williams plays on the right as a forward.
"We're going to be on the same side," Colgrove said. "She told me if I ever slide tackle her, she'd kill me. So I'm going to try and stay up whenever we do play, Lauren."
Williams ended up deciding on Neosho because her THS assistant coach — now Tonganoxie's head girls soccer coach — Justin Seever played there and hooked her up.
"They sent us an email, we went to go visit, yada, yada, yada, and I signed with them," was how Williams put it.
For Colgrove, the appeal of receiving scholarship money to go to school at Pratt was a big pull.
"I'm really excited because it's free money. I get to go play soccer… in the middle of nowhere," she joked of the junior college located roughly 180 miles southwest of Tonganoxie.
Colgrove won't be completely out of her element in Pratt, though. Since she signed with PCC, fellow 2010 Tonganoxie grad Kendra Walters also has committed to the program.
Plus, now she will have a sidekick the next time she and Williams decide to trade some smack talk.