Former
KU

 standout teaches football skills to youths at clinic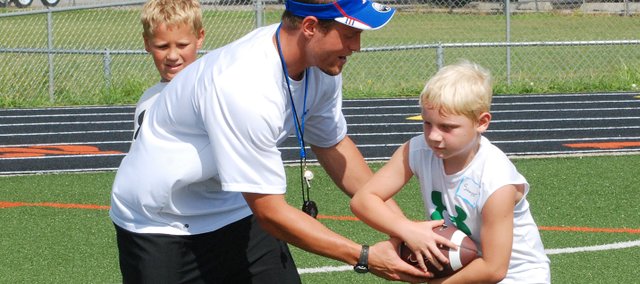 It'd been about eight months since most Kansas University fans last saw Jake Sharp on the football field, but the former Jayhawk running back resurfaced to lead a youth clinic Saturday at David Jaynes Stadium.
Photo Gallery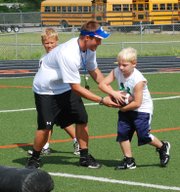 Jake Sharp's football clinic
Former Kansas University running back Jake Sharp conducted a youth clinic on Saturday in Bonner Springs.
"Are you guys ready to have some fun?" Sharp asked the group of about 15 campers on hand. "Because that's what it's all about."
For the next two and a half hours, Sharp and his assistants — including a half-dozen Bonner Springs High School football players — led campers through instructions ranging from how to properly take a handoff to the fundamentals of tackling and recovering fumbles. After that, they scrimmaged for about 30 minutes.
Even as the hot sun cooked the turf field and temperatures soared into the 90s, the campers played hard.
Through it all, Sharp wore a grin from ear to ear.
"It's about as much fun as a 22-year-old can have, to be honest with you," he said afterward. "There's nothing more rewarding than coming out here and showing a kid something that I wish somebody would have shown me when I was 5 or 6 years old.
"We had 6- through 12-year-olds out here today, so you know it was a great time with all the little kids running around. Any chance I can get to come help kids, it's really rewarding. It's not something you get to do every day. It's not something I dread, that's for sure."
The clinic was put together on short notice, and Bonner Springs Family YMCA Sports Director Larry Boswell said he was pleased with the turnout given the clinic was announced just 10 days earlier.
"Jake's obviously helped out with camps before, but with this being a smaller one he was able to spend a little more one-on-one, quality time with the kids," Boswell said. "I think it definitely was a success for the short amount of time we had, but going into the future we'll continue to add to this and hopefully get him back again and grow and add a couple of players."
Sharp said he would like to run more camps in the future, both locally and state-wide.
"This is kind of my first time being the ringleader of camp," he said. "I've helped out with camps ever since I was in junior high or high school back home in Salina. This is something I'd like to do. I'd almost like to run some camps throughout the state sometime. I would definitely enjoy it."
His name alone carries plenty of recognition throughout Kansas. He was a high school standout at Salina Central and was named the Gatorade Player of the Year in Kansas in 2005 and romped for 6,524 rushing yards during his prep career — the second highest total in state history. He also led his team to an undefeated state championship as a senior. In addition, he shined on the track where he won three state championships in the long jump.
His popularity increased during his KU career as he helped revive the Jayhawks' football program. He helped KU win the 2008 Orange Bowl. He finished his career with 1,974 yards rushing.
Numerous campers showed up wearing Kansas football jerseys or T-shirts, and they all got autographs from Sharp after the clinic ended.
As for his future, Sharp hopes football will play a part of it — both as a camp leader and as a player. If opportunities in the United States don't work out, he said he will try to play professionally in Canada.
He also might pursue a television career in something other than football.
"I'm trying to get in touch with some guys that run some hunting shows; that's my true passion," Sharp said with a grin. "That's my true passion, the outdoors, that kind of thing. I have no plans to get a suit-and-tie job any time soon. We'll just have to see. I'm enjoying life. I've been really blessed. I'm just living."