Ward new mayor of Tonganoxie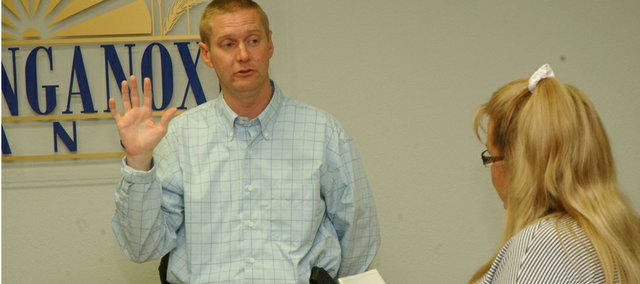 Jason Ward maintained the suspense before agreeing at the end of Monday's Tonganoxie City Council meeting to become the city's new mayor.
At the start of the meeting, Ward said he wanted to stay in his role as council president so that he could vote on the issues before the council Monday, foremost among them the city's 2011 budget.
Ward, an attorney by profession, said after the meeting he didn't come to the new position he was guaranteed to hold until April 2011 with an active agenda. But he felt well positioned to keep the city and the council on its current course.
"Having served in the post of council president gave me a lot of information and reference to try to maintain the status quo of the city and maintain city services," he said. "I've participated in a number of budget years and served on working committees that gave me good direction for going forward with the council."
In his first two actions as mayor, Ward appointed Chris Donnelly to his open seat on the council and Councilman Burdel Welsh to succeed him as council president. The council unanimously approved both appointments.
Donnelly is a former member of the Tonganoxie Planning Commission. He is also a member of the Tonganoxie Civic Club, on the board of the Leavenworth County Development Corporation and on the Scared Heart Parish Finance Committee.
A banker for 30 years, Donnelly is currently with Country Club Bank of Kansas City. He had his wife, Susan, have three children, two of whom graduated from Tonganoxie High School and one who is still going to school in the district.
Although there was only eight months left in the term, Ward said it was too early to decide if he would seek another four years next spring. Family, professional and council considerations would be weighed when he made that decision, Ward said.