Downtown Tonganoxie has Thursday night flare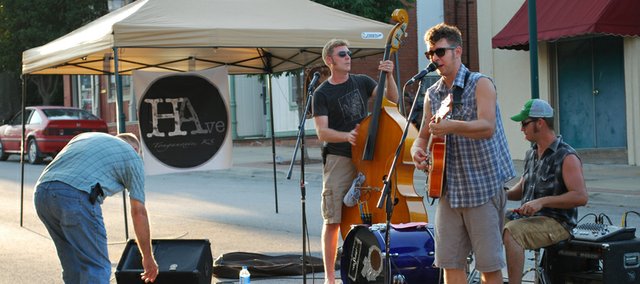 There was a block party of sorts Thursday night in the 600 block of Fourth Street.
Businesses H. Ave., The Coffee Depot and Vintage Soap and Bath spearheaded the event, which was the inaugural First Thursday, this past Thursday. Mark your calendar, as First Thursdays will take place on — you guessed it — the first Thursday of each month.
Various businesses will be open late on that day, though some businesses already stay open every Thursday night.
Thursday, the businesses worked with the police department to block off Fourth Street from Delaware Street to Main Street. The band The F Holes performed.
One of the organizers, The Coffee Depot's Dave "Davo" Howe, said they would try to secure a band for each First Thursday if possible. He said businesses offered specials during the inaugural First Thursday.
"It's a joint effort," Howe said. "We're trying to get things rolling down here."
Dave's mother, Lana Howe, who owns Vintage Soap and Bath, which is in the same storefront as The Coffee Depot, said there was a good turnout Thursday.
"I would say there were 100 people or so," Lana said, noting it was a good crowd, especially because there wasn't much time to publicize the event.
She also said people in attendance said they wanted the band to play longer Thursday.
"They're ready for next month," she said.
Lana said they plan to continue with offering specials. As for future entertainment, she said someone approached business owners about having an improv group possibly performing in the future.