Jacobs, Pennington will remain teammates at
KCKCC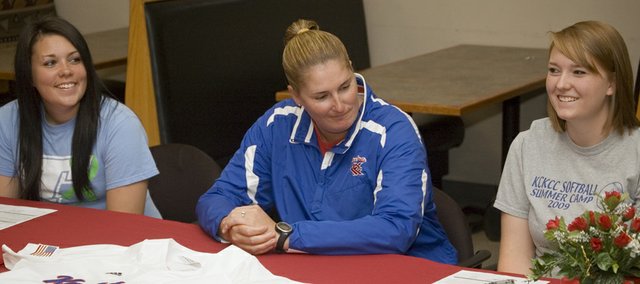 When Angela Jacobs decided during her senior year at Tonganoxie High she would join the softball program at Kansas City Kansas Community College, she did so with a smidge of trepidation.
Even though the junior college is just down the road, the prospect of joining a new batch of unfamiliar teammates conjured up some nerves.
Any unsettling feelings disappeared, though, when not too long after Jacobs' decision, fellow Chieftains senior Nikki Pennington also committed to KCKCC.
The 2010 THS graduates signed up with the Blue Devils together in May. Jacobs thinks having a familiar teammate to lean on will help both players as they transition to the next level. She said she was a little nervous about her choice at first because she received an offer from KCKCC coach Kacy Tillery before Pennington did.
"It's a relief to go with someone I know, so I'm not going to be all alone," Jacobs said.
Both of them are excited, Pennington said, about continuing at the college level as teammates after playing together not only at THS but also on the same competitive team.
"I know that we're going to be happy that we get to continue to play with each other," she said.
Both Tonganoxie products said they'll be happy to take the field just about anywhere on the diamond once they suit up for KCKCC.
"I just want to play whatever," said Pennington, who entered the 2010 season believing she would be Tonganoxie's main relief pitcher but ended up earning a starting role. Still, she said she wouldn't mind being a utility player in junior college.
Jacobs played first base and pitcher her senior year for the Chieftains and would like to play first base for the Blue Devils, but she maintained she is capable of playing multiple positions, which she has done on competitive teams through the years.
"Wherever they put me, I'll be fine with, because I can pretty much play anywhere but second and short," Jacobs said.
Thanks to THS softball coach Lee Matzeder, Jacobs added, both players should be ready for any fitness challenges that await them. She said Matzeder was strict with the Chieftains about staying fit, which made them more productive on the field.
Pennington agreed that they should be more prepared for the college level. She said her goals at KCKCC are to play well, avoid mistakes and "just make an impact."
Jacobs predicted Pennington will be able to do just that.
"I think Nikki's gonna bring a lot. She's pretty much like me, she can play around (at different defensive spots), too," Jacobs said. "It's gonna be good because we both can play multiple positions — not just one."
And it should be nice for both to have a familiar face nearby.