Wilson reaches his goal of throwing at college level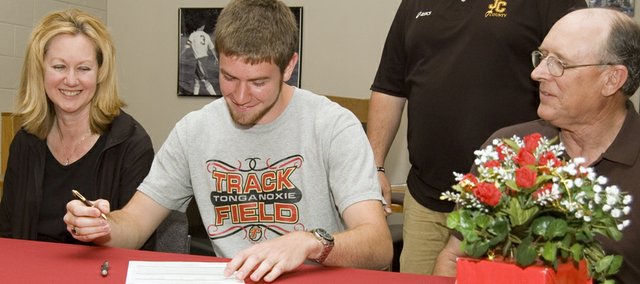 Whether it was genetics or just admiration for a sibling, it seems Stephen Wilson was bound to be a thrower.
Back when he was a student at Tonganoxie Middle School, the 2010 Tonganoxie High graduate was drawn to the art of throwing the discus with some prompting from longtime TMS track coach Phil Jeannin (or Coach J, as Wilson and many others know him).
"Coach J, he thought I'd be good at it," Wilson recalled, "and since my sister Jaclyn did it and she was really good at it, I just thought I'd try it."
Discus throwing — the skill that took Jaclyn to a track career at Johnson County Community College and Emporia State University — stuck with Stephen, and it became a passion. He followed his older sister one step farther in May, when he signed to become a thrower for the JCCC track team.
"I love the discus. Ever since I started doing it after seventh grade, I loved it," he said. "I've loved every single practice I've been to."
And the disc might not be the only object Wilson hurls for the Cavaliers. JCCC throws coach Phil Groves has chatted him up about doing more than the discus in college, with some time in the weight room, which should help him improve.
Wilson worked with javelin throwers at THS when he was a sophomore and practiced with the shot put some his next two years. Tonganoxie throws coach Matt Bond took him out of the shot put so he could concentrate on discus but Wilson is eager to try out some different toys — even the hammer, which would be a completely new venture — with the help of Groves at JCCC.
"I'm really excited to go here because he said we're gonna try all the events — javelin, hammer and shot put," Wilson related.
By signing to throw at the college level, Wilson realized a goal he began pondering before his high school career ever began.
"My entire goal through high school was to get a scholarship for some place and now I've got it, so I'm pretty happy," he said with a big grin.
Wilson is dreaming big, too, for his plans after junior college. He said his whole family — mother Betty, father Larry and sisters Jaclyn and Elizabeth — are Kansas University fans.
"After Johnson County, I'd like to go to KU and throw there. I love KU," he said.
Just as much as he loves throwing the discus.