City officials fix water main break; water district to continue to supply community until Monday
Residents still encouraged to conserve water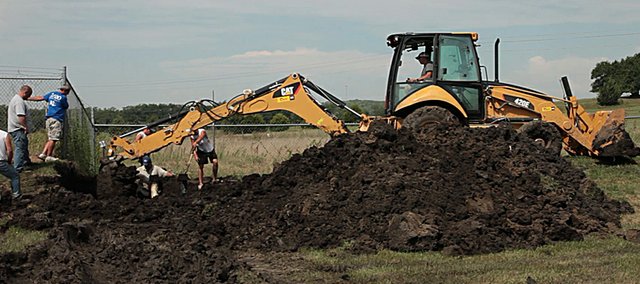 Tonganoxie officials have fixed a water main break that caused a loss of about 200,000 gallons of water and will continue to receive a portion of its water from an area provider through Monday.
Tonganoxie receives between 25-40 percent of its water from Wholesale Water District No. 6 in Bonner Springs, but the water supplier recently had a water main break of its own. The water supplier will be fixing that line Monday, so it will continue to supply Tonganoxie until then. That should help replenish Tonganoxie's water storage and supply, said assistant city administrator Kathy Bard.
Utilities superintendent Kent Heskett said the break in the 8-inch main was caused by a rusted valve and occurred in northeast Tonganoxie about 11 p.m. Thursday. That caused the loss of about 200,000 gallons of water, said Lloyd Wisdom, lead utility operator for the city. City crews completed the water main repair work Friday afternoon.
To combat the loss of water and the eventual shut-off from the water district while it tends to its break, city officials have been asking residents to refrain from watering lawns, filling swimming pools or washing vehicles.
The Leavenworth County Fair is taking place this week in Tonganoxie as well.
"This is probably one of our high times for usage," Heskett said.
A mud run is to take place tonight and will go on as scheduled. Water was brought in from another area water source for the run.
Before Thursday night's break, city crews had addressed at least one small water line break a day during recent hot weather, Heskett.
In Lawrence, Dave Wagner, city utilities director, said his department also has dealt with some minor water line leaks caused by the extreme heat. Hot weather dries out the soil, which can cause pipes to shift. In older piping, or those with even minor imperfections, leaks can occur, Wagner said. The issue is compounded in the summer, as more water flows through the pipes because water use is up.
The Leavenworth County Emergency Operations Center is on standby, so other fire departments in the county will be available with water in the event of any fire emergencies in Tonganoxie.
And water in Tonganoxie is safe to drink, because there are no contamination issues, said Kathy Bard, assistant city administrator.