Bidders see auction as 4-H'ers reward at Leavenworth County Fair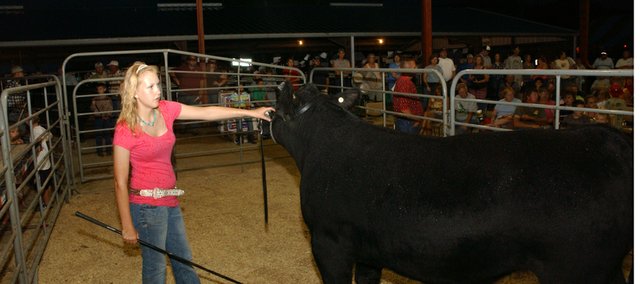 Shelby Odgen got confirmation Friday at the Leavenworth County Fair that she has a good eye for livestock.
Odgen sold the fair's grand champion market hog, which she bought for her 4-H project earlier this year, at Friday's livestock auction for $1,300.
"I saw something in him," she said. "And I was right."
A parade of more than 60 hogs followed Shelby's grand champion to the fair's auction pit. And while their winning bid didn't approach the benchmark the grand champion set, all easily outdistanced the market value of their weight with the help of an auctioneering team ready with such helpful encouragements as, "It's easier to write a check for $400 than $375."
The auction was a reward for the hard work the county's 4-H'ers put into their projects, said Sandra Bohne, who did a little multi-tasking by passing out campaign hand fans in her race for the Kansas House 40th District to the capacity crowd filling the rows of seats and bleachers surrounding the auction pit on three sides.
"I'm going to buy a hog," Bohne said. "Our kids did it, and somebody always bought their projects.
"To me, 4-H teaches them how to be responsible workers. They'll put this money in their college funds."
College is a long way off for Lansing elementary school student McKenzie Weaver, who visited with Leavenworth County Sheriff David Zoellner after he bought her hog.
"I've been buying 4-H livestock since before I became sheriff," Zoellner said. "I respect the work they have done and support them.
"Everybody likes money. I just hope they spend it wisely."
The big money maker was Jody Baragary of Tonganoxie, who's steer took home what is probably the fair's most coveted prize: Grand champion market steer. Bidding for the bulky Angus steer ended at $3,300.
"I'm extremely pleased," Baragary said. "We showed at some show earlier in the season and didn't do too well."