Caywood begins juco baseball experience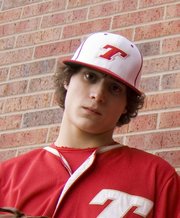 It didn't take Dylan Caywood long to learn that college baseball is a step up from high school.
The 2010 Tonganoxie High graduate moved to Concordia, where he will play for the Cloud County Community College Thunderbirds, this past week and on Day 1 of on-campus conditioning, Caywood and his new teammates had a memorable 6 a.m. workout.
"We ran 'til we puked," Caywood said of the Thursday morning session.
Considering the scouting report on the former Chieftains center fielder reads, "Speedy leadoff hitter," meaning running is one of his strengths, it had to be a challenging workout.
"Everyone was a little out of shape coming in but it was quite a bit of running," the Class 4A all-state selection said.
Not every aspect about the first day of Caywood's CCCC career was nauseating, though. After serving as Tonganoxie's leadoff hitter and starting center fielder, that's where he wants to remain as a member of the T-Birds — and it appears he might just get a shot at cracking the lineup in his usual spots. At the baseball team's intrasquad scrimmage Thursday afternoon, Caywood led off and played center field for one of the teams.
"I'm very excited," Caywood said.
After moving Aug. 11 to Concordia, the schedule got pretty hectic for the newly minted college freshman. The welcome-to-college/find-the-trash-can workout and the team's first scrimmage were part of his second day in town and there was a team cookout that night. Friday's schedule looked exactly the same. Plus, there was a Saturday morning conditioning session.
Classes start today, then the first day of fall practice is Thursday. Before long, Cloud County starts a full fall season, which features traveling for games in wooden bat showcases. Caywood said he would have to adjust to the schedule and the responsibility of representing the junior college as a member of the baseball team.
"With high school baseball, you get time off, you get breaks, practices are shorter," Caywood said. "Here, you just live and breathe baseball — that's what you're here for and that's your job."
The former Tonganoxie outfielder said he chose Cloud County because he really likes coach Greg Brummett and his baseball knowledge.
"I think it was a good opportunity to get better and make it to the next level," he said of signing a scholarship offer with CCCC earlier this summer.
As far as personal goals, Caywood stated he wants to earn a starting role, win a lot of ball games, eventually go on to a four-year program and "just get better."
Running-induced sickness aside, Caywood said he is looking forward to this new chapter in his baseball life.
"I think this is gonna be fun and I'm gonna progress as a baseball player," he said. "And I'm gonna learn a lot about myself and meet a lot of really good people."