Family tradition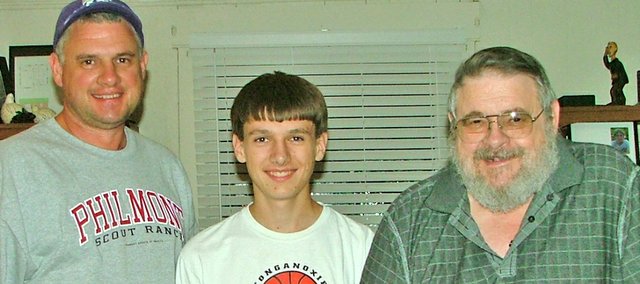 Brett Morey will join the ranks of his father and grandfather Saturday.
That's when Brett will receive his Eagle Scout award, an achievement his father, Burt, attained in 1983 and his grandfather, Jim, accomplished in 1953. A ceremony will take place at 5 p.m. at VFW Post Home 9271 in Tonganoxie.
Brett did the proper work to receive his merit badges and finished his Eagle Scout project, which he and other scouts said was an arduous task. But the work has been put in and Brett, along with four other scouts in Boy Scout Troop 357, will be receiving their Eagle Scout awards.
"It just means that I decided to do Boy Scouts and continue the track that's been laid by my dad and my grandpa," Brett said. "It's a fairly big commitment, but in the end if you do it, it's totally worthwhile."
For Brett's project, he led a group in cleanup work around Tonganoxie Public Library.
Burt, who is assistant scout master for the local troop, said he was proud of his son's accomplishments.
"I'm real proud of him," Burt said. "It's a lot of work and it shows that he's able to follow through with something."
Brett, who is entering his sophomore year at THS this fall, started in Cub Scouts roughly nine years ago and has worked his way up to Boy Scouts.
"It shows they've got some perseverance and are willing to do something," Burt said about all the scouts who will receive their Eagle Scout awards.
Burt earned his Eagle Scout award in 1983 and worked at a Boy Scout camp that summer. He said he wasn't involved with Boy Scouts for several years before getting involved again when Brett was making his way through the ranks.
"When I came back I really didn't' know what to expect," Burt said. "It was kind of like seeing an old friend you haven't seen for a long time. The more things change, the more things stay the same.
"It was like going into an organization I never really left."
When Brett's grandfather, Jim Morey, earned his Eagle Scout award in 1953, the Tonganoxie troop was Boy Scout Troop 75. And he said he didn't recall doing a final project.
"I got mine before projects were invented," Jim said.
Jim said he's glad to see his grandson carrying on a family tradition.
"I'm very proud of him, of course," Jim said. "Scouting has meant a great deal to our family and I'm so glad he's taken such an interest in it."
The most difficult part of the Eagle Scout project was the paperwork that went along with it. Scouts continuously had to have various documents narrating the work approved. Brett, as well as fellow scouts Cody Martin, Zeke Kissinger, Hunter Sturgis and Thomas Miller, agreed that the paperwork was the most taxing portion of completing the required project.
Here's a look at other scouts who will be receiving their Eagle Scout awards Saturday:
Cody Martin
Like the Moreys, the Martins are making the Eagle Scout award multi-generational. Cody, who will be a junior at THS this school year, completed a project of putting up a flagpole with landscaping outside Tonganoxie Nursing Center. His father, Darin, completed his Eagle Scout project in 1983 by refurbishing an outdoor nursery at a church in Carrollton, Mo.
Darin said his son's award is a "very good achievement" and it offers a lifetime of learning. He noted that he got started in scouting for the fun and thrill of it because he is an outdoorsman.
And, of course, he's proud of his son, who said about completing the project and earning the award: "It feels amazing."
Zeke Kissinger
Like the Martins, Bobby and Zeke Kissinger form a father-son Eagle Scout duo. Bobby, who is scout master for the local troop, earned his award in 1977.
"To reach Eagle Scout there's a lot of self-motivation," Bobby said. "Granted, the adults help out with it. There's a lot of work the boys have to do to go the extra mile to get it earned."
In total, Boy Scouts also must complete 21 merit badge requirements.
Zeke, who enters his freshman year at Tonganoxie High School, led a group in refurbishing the fit pit at Tonganoxie Elementary School, which is a fitness area for students at the school. Zeke said "it's a long road and a tough road" becoming an Eagle Scout but it's a high honor and fun once a scout reaches that distinction.
His older brother, Zeb, also was an Eagle Scout.
Completing the Eagle Scout requirements provide a sense of pride for the scouts, but Bobby noted that the Eagle Scout projects also help the community.
"It's a service project. You help a non-profit organization. I can't get all the boys to come up and put up hay for me," Bobby said with a laugh.
Hunter Sturgis
Hunter Sturgis' project also was at TES. He led a project in doing landscaping outside the school by creating a flower garden and installing a bench.
Hunter, who will be a sophomore at THS when school starts this week, reaffirmed that there was "a lot of paperwork you had to do" for the project.
"It feels pretty good to accomplish it because not many people complete it," he said.
He said he started on the project roughly a year ago with all of the paperwork, and the project took roughly eight days to finish in late May.
Getting ready to enter high school later this week, Hunter is the first in his family to earn the Eagle Scout award.
Thomas Miller
Come Saturday, it will be official: Every one of Ken and Tammy Miller's sons will have earned Eagle Scout awards.
First it was Tony and then Andrew. Now, the youngest brother, Thomas, will be receiving his award.
Thomas' Eagle Scout project was installing a flagpole at Chieftain Park. Tony's project was to rebuild shelves at the Leavenworth County Fairgrounds following the 2000 tornado. Andrew led an effort to clean up an area cemetery that had been neglected. Thomas said his older brothers encouraged him in his quest to also be an Eagle Scout.
"If they could do it, I knew I could do it," said Thomas, who enters his sophomore year at THS. "It made it easier, I think. I knew my mom and dad were right behind me to encourage me to go on and on."
Thomas' mother, Tammy, said it's quite an accomplishment for a youth to become an Eagle Scout.
"Anything now they should be able to do if they get through that," Tammy said.
She also said scouts had to show leadership in preparation of the project, as scouts must recruit volunteers and instruct them on the project. The projects were very detail-oriented, as well. For instance, scouts had to make sure volunteers were not allergic to the type of paint or gloves used.
"They had to take care of the most minute details to get it done," Tammy said.