Rocketeers launch 4-H fair projects skyward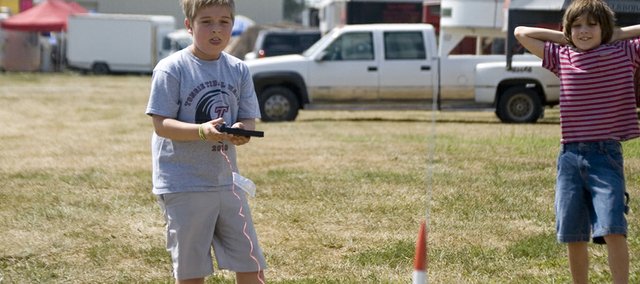 With nothing on the line except pride, four local 4-H'ers gathered Friday morning at the Leavenworth County Fair to shoot a few of their fair projects into the air.
Brothers Alex and Luke Falk, with Emmett Keene and Noah Daye — and some assistance from the Falks' father, Dave — launched miniature rockets off a small pad just north of the fair's main hub (safely away from animals, fair patrons and automobiles).
A few hundred feet away, in the 4-H building, ribbon-winners for this year's rockets already were on display, as the 4-H'ers' projects previously had been judged on a number of things, including painting, workmanship and, of course, how high they fly.
A total of 17 county 4-H members participated in rockets this year, but only four attended Friday's launch, which really was about having fun.
Keene's rocket, which earned him a purple ribbon, soared the highest, and nearly had onlookers sun-blind as they tried to track its impressive path through the sky.
Luke Falk, 11, said the rocket belonging to Keene, 8, was the most impressive at the launch party, but he was happy with both of his entries, one of which earned him a red ribbon.
"I think my rockets did fantastic," he said.
Luke stressed the most important part of a launch is the height of the rocket's path, not the distance, and said he enjoyed the whole process of working on the project, especially the end result.
"The fun part is watching them and the funnest part is seeing them not crash and break into thousands of pieces," Luke said.
His younger brother, Alex, 9, didn't have to worry about crashing and burning. He won one blue ribbon and two red ribbons for his entries. Alex thought the most important part of the launch was seeing whether the parachutes deployed, because if they didn't he would have been left with a busted, useless rocket.
"They did," he said of the parachutes functioning. "That made me happy."
Rockets are just one part of 4-H's geospace offerings, which include GIS mapping. Science, engineering and technology competitions are a growing part of 4-H and members also have the opportunity to study electricity and wind power. In the next year, the organization will be adding programs about water, which will cover its quantity, conservation and other aspects.
Leavenworth County Fair 4-H Rockets
Ribbon winners
Stage 1
Rocket from kit
Purple: Emmett Keene, Tonganoxie.
Blue: Austin Foley, Leavenworth; Catherine D. Larson (two), Leavenworth; Alex Falk, Linwood; Jacob C. Boone, Tonganoxie; Noah M. Daye, Tonganoxie.
Red: Brett Klamm, Bonner Springs; Alex Falk (two), Linwood; Luke Falk, Linwood.
Green: Afton Boone, Tonganoxie; Aidan Boone, Tonganoxie.
Stage 2
Rocket from kit
Blue: Nicholas French, Tonganoxie.
Red: Justyn Leslie (two), Tonganoxie; Benjamin Miller, Bonner Springs.
Robot from kit
Blue: Laina Griffith, Basehor.
Stage 3
Rocket from kit
Purple: Tyler Grammer, Basehor.
Blue: Benjamin Jacobs, Lawrence.
Rocket from original design
Red: Garrett French, Tonganoxie.