Hearing draws no comments; budget approved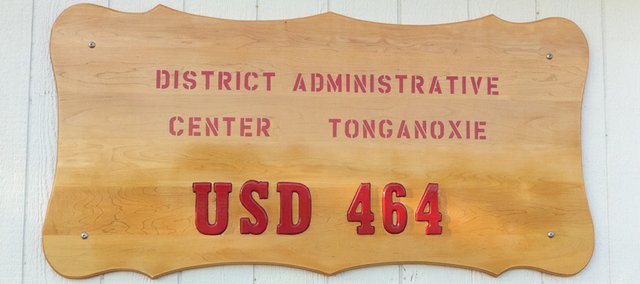 The Tonganoxie school board approved its budget for 2010-11. A public hearing took place to discuss the budget, but no patrons approached the board to discuss the budget during the meeting. The board voted, 6-0, at the end of the meeting to approve the budget.
The $20.2 million budget will require a minimal jump in a mill levy increase. The published budget is 54.408 mills, nearly in line with the 2009-10 actual budget of 54.754. The budget is based on assessed valuation of $90,918,407, which is an increase from the 2009-10 actual valuation of $90,032,018.
A mill is $1 in taxes for every $1,000 in property valuation.
Elementary school teachers show off interactive boards
Tonganoxie Elementary School teachers Renee Bradley, Jill Conrad and Jocelyn Lucas led a presentation on the Promethian interactive white boards that the district has. There are 10 boards at TES and additional boards at THS and TMS. Not every classroom has a board.
Bradley teaches kindergarten, Conrad first grade and Lucas third grade.
The teachers showed various writing and grammar exercises with the boards, including a multiple choice activity that board members were able to test. Students are given a remote keypad they use to select what they think is the correct corresponding answer.
The program closed out on occasion, a glitch that will be remedied through an upgrade that is in the works. With the multiple choice, the screen shows how many students answered correctly, but doesn't identify students in any way. Teachers can review statistics of answers and determine what areas might need more attention in lessons.
District switching to Coventry for insurance
The district is switching to Coventry as its health insurance provider. Its previous provider, Humana, was proposing a 43 percent increase in premiums.
One of the option plans will decrease the premium by $23 per month; the other will increase rates by $28 per month.
Hayden added that the lower premium plan would be considered a health savings account, which allows employees to establish personal savings for any incurred medical expenses.
Coventry has been a past provider for the district.
Board members praise faculty breakfast, schools
During the board comments period of Monday's meeting, board president Diane Truesdell spoke highly of the faculty breakfast, which she attended Monday morning. She said Hayden was very motivational in speaking to the faculty and she said teachers at her table were enthusiastic about the upcoming school year.
Board member Kay Smith spoke about how clean all of the campus buildings were and that she had told maintenance director Larry Easter as such.
"Our staff is doing a wonderful job," Smith said.
Superintendent Kyle Hayden said the district also has been doing more with less because of tight budgets. But he said "they look better than when I got here," referring to when he became and administrator in Tonganoxie.
Board approves hire of son to replace father as baseball coach
Mitch Loomis will be the new baseball coach at Tonganoxie High School, replacing his father, Phil Loomis, who is retiring from coaching. The school board approved the hire Monday at its regular meeting.
Earlier this year, Phil Loomis retired from teaching, but had planned to continue as baseball coach. In a resignation letter to the school board, he said he also wanted to retire from coaching baseball.
The board also approved these hires:
• Maureen LaCasse as THS Future Business Leaders of America sponsor.
• Brad Kempf as THS assistant baseball coach.
• Shirley Conrad as transportation para-professional for special education.
• Crystal Matthews as transportation para-professional for special education.
• Jason Wilson as part-time TMS fifth-grade technology teacher and part-time TMS para-professional, THS assistant girls' basketball coach, TMS assistant volleyball coach and TMS assistant girls' basketball coach.
• Stephanie Wittman as THS assistant softball coach.
Other positions that remain open are another THS assistant baseball coach and an assistant coach for THS girls soccer and wrestling and TMS boys basketball. A TES para-professional position also remains open.
The board approved the hires after a 15-minute executive session. Hayden joined the board in executive session.
Board approves Mitigation plan, board policy
The board approved a Leavenworth County Mitigation Plan, a disaster plan created through a collective meeting of school and city officials from throughout the county. FEMA also has approved the plan, pending adoption by all parties in the county. Hayden said the district could take advantage of potential federal funding opportunities through the plan.
The board also approved changes in its policy for public participation at board meetings.