Capitol connection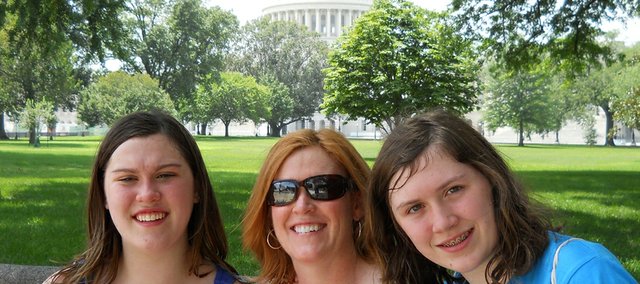 A Harrell family vacation isn't complete without at least one stop at a state capitol.
The Tonganoxie family has a standard routine when vacationing: Drive to the capitol grounds, scope out parking, take a photo and then tour the capitol itself if it's open to visitors. That's according to Steve Harrell, who snaps a photo of his family — wife, Kathy, and daughters Mallory and Lauren — at each capitol.
"I take the picture," Steve said, "with the dome in the background, if possible."
Since 2000, the family has made stopping at state capitols a part of its annul summer vacation plans. In total, Mallory, a sophomore at Tonganoxie High School, and Lauren, an eighth-grader at Tonganoxie Middle School, have visited 26 state capitols and the nation's capitol.
Kathy has made it to 37 state capitols and visited every state except Vermont, Alaska and Hawaii. Steve has been to about the same number of capitols as his daughters.
A history teacher at TMS, Kathy, whose mother was a teacher, said her father was interested in history and geography himself, which was a big influence in her wanting to visit the various capitols and historic locales.
"Pretty much to my family's chagrin," Kathy said with a laugh.
One of Kathy's friends, who said it was a goal of hers to see every state capitol, inspired her to start the family tradition. The first capitol visits were to Denver and Topeka.
Family vacations aren't built around state capitol stops, but the Harrells do try to make their way to capitols while vacationing.
For instance, during a 2003 trip to and from Walt Disney World, the family stopped at state capitols in Tallahassee, Fla., Montgomery, Ala., Atlanta, Ga., Nashville, Tenn., Little Rock, Ark., and Jefferson City, Mo.
"It's very educational," Mallory said. "I think it will definitely help us when we go to different states and go to college… it's all educational."
Lauren agreed.
"It's nice to see all the different places," she said.
This past summer, the family visited Washington, D.C., and Richmond, Va., so they saw both the nation's capitol and what was the Confederate States' capitol.
Asked if they had favorite capitol buildings, Lauren and Mallory agreed that the capitol in Charleston, W. Va., with its gold dome, was their favorite.
Kathy and Steve are partial to the Pennsylvania capitol building in Harrisburg, Pa., with its lime green dome.
Some buildings don't get as high of marks, though. Family members weren't as impressed with the capitol building in Tallahassee, Fla. Built in the 1970s, Kathy likened it to an office building.
"It didn't have a dome," Lauren said. "It was like a skyscraper."
As evidenced by the trip to Walt Disney World, the Harrells combine entertainment and a look at history in their excursions. Kathy noted the family doesn't own a boat or head to the lake in the summers. They instead like to travel.
"We'll probably live in Kansas all our life," Kathy said. "But traveling to other areas is really important. It's a different perspective for the girls.
"I think it gives us a better understanding of what it's like to be there. It shows us the history of a specific state and how that affected history."
Steve, who heads the speech and drama department at THS, reminisced about some of the history they've encountered.
In South Carolina, the capitol in Columbia still bears cannon damage from Gen. Sherman's attack during the Civil War.
Before their daughters were born, the couple visited the Massachusetts state capitol in Boston and saw the office of former governor and presidential candidate Michael Dukakis.
"We just kind of waltzed right on in," Steve said. "You can't do that anymore anywhere."
When visiting the capitol in Sacramento in 2009, the teachers' union there happened to be lobbying for public school funding.
"There were thousands of people there," Steve said, adding that the family also had the chance to walk by Gov. Arnold Schwarzenegger's office that day.
Together the Harrells have visited capitols in most regions of the country. And, with about half of the nation's capitols already visited, Kathy said it's hoped that Mallory and Lauren will visit every state capitol.
But that likely will have to be accomplished in their adult lives.
"We probably won't be going to Hawaii anytime soon," Steve said.
But if they do, there's sure to be a family photo in front of the state capitol in Honolulu.