Going for the kill
Tonganoxie volleyball aims for state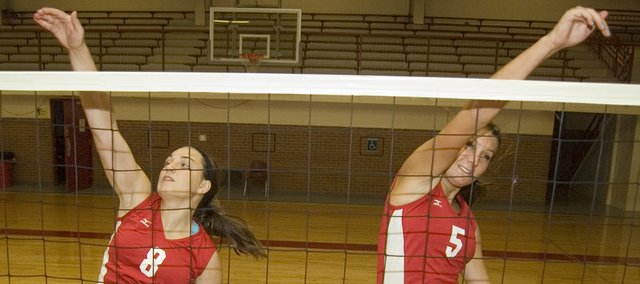 A motivated group of self-starters, the Tonganoxie High volleyball team has a serious goal for the 2010 season — as in a berth at the state tournament.
Every high school athlete wants to go to state, and each one will say that's the goal. But not all of them will do the things it takes to turn lip flap into an actual accomplishment.
The Chieftains might have an edge in the department of talking big. They are acting like volleyball isn't just something they do after school.
One day this past week, THS co-coach Brandon Parker was a few minutes late to practice after a meeting went long. Practice doesn't generally start before he and co-coach Tiffany Parker are present, but when Brandon walked in the gym door, there was the team, already drilling. And the players weren't just going through the motions. They were running — as punishment — when they made a mistake.
That, Brandon Parker said, was a pretty good sign that this team means business.
"We've got a lot of kids that are coming back," he said. "They've kind of been through it a little bit now and have come into this season a lot different than they have in the past. They actually look like they're pretty driven."
Seniors Danielle Miller and Molly O'Hagan hope to lead Tonganoxie to its first state tournament since 2007. That was O'Hagan's freshman year. She didn't play at state, but she got an up-close look of what it was like.
"I got to sit on the sidelines, so I've kind of got the feeling that it's my turn," O'Hagan said. "It's my senior year and I feel like it's me and Danielle's responsibility to get these girls to state, because we know we can do it."
Miller said a state berth is a realistic goal because of the team's versatility.
"We have a lot of people who can play a lot of different spots," she said. "If one person's off, you have six other people that you can go to that can make a play."
Both THS seniors play big at the net and are capable of passing and hitting but they both know the rest of the team is just as critical to Tonganoxie's success.
Haley Smith works hard in the back row, Megan Hummelgaard has picked up her game, Brooklyn Kerbaugh is striking harder than before, Jenny Whitledge is throwing down kills and Hannah Kemp is hitting, setting and blocking. Even two players who haven't yet suited up for varsity — Sagan Scates and Kailan Kuzmic — are expected to step in and perform well as key cogs in Tonganoxie's nine-player rotation.
As Miller said, their versatility should be a strength. Parker likened the Chieftains' ability to play different spots to a term that's being thrown around in college football these days — hybrid. Like a linebacker who can also play safety, THS volleyball players are comfortable anywhere on the court.
"We've kind of got some hybrid volleyball players that can go all over," Parker said, noting that makes it more fun for the players, too, as they aren't locked in at one position.
"Tiff and I have full confidence that we can move people wherever we need to," he added.
The girls have confidence in each other, too. The past two seasons, THS got off to a slow start and improved toward the end of the year as the team gelled. O'Hagan said delayed progress will be a non-factor this season.
"We're a team already, which is five steps ahead of the past two years," the senior said.
Miller agreed, and said the players bonded better than ever this summer with a team camp at Wichita State and other activities.
"We've just come together a lot quicker," she said. "We know each other and we work well with each other."
It's a tight group, Parker said, and its progress should make this season better than the previous two (the Chieftains were 25-14 in 2009 and 26-16 in 2008). So are the Chieftains, without a doubt, the best they've been since finishing third at state in 2007 and going 32-13?
"It's tough to say right now," Parker said. "But if you're betting, we're a lot further along than we have been in a long time at this point, after week one of practice."
Tonganoxie's season begins at 7 p.m. Tuesday, when the Chieftains play host to Atchison.