Schroeder adjusting to new role as
MHS
AD
Boys basketball coach now McLouth athletics director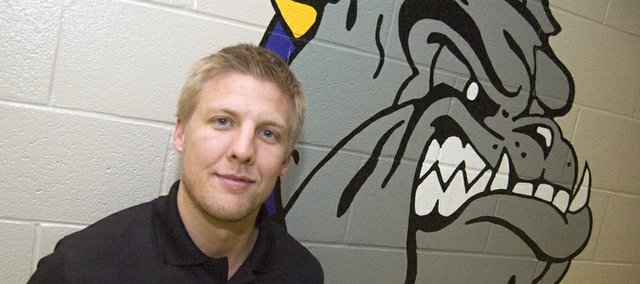 Things just got a whole lot busier for Jason Schroeder.
Entering his fifth year as the boys basketball coach at McLouth High, Schroeder recently added another title — athletics director — to his MHS résumé.
Schroeder first arrived at McLouth as a student-teacher. After he graduated from Kansas University, he was hired as a part-time instructor for online courses and elementary physical education classes. His first year at the school, he served as assistant boys basketball coach. He now heads that program, oversees all MHS activities and serves as the full-time elementary school physical education instructor, all while working toward a master's degree online.
"It definitely will be much more of a tougher schedule than I'm used to," he said.
Even though Schroeder has so much on his plate it could feed a family of four, he is ready for the challenge of working as McLouth's athletics director because it will eventually lead him to another career goal.
"The main reason I wanted to do this was to get on the administration side of things," Schroeder said. "I thought it would be a great opportunity for me since I want to be a principal someday. This is a great learning experience to be involved on this side of it."
Learning the ropes
The 27-year-old Schroeder, who originally is from Whitewater, officially became the Bulldogs' new AD when teachers reported to work early in August. But Schroeder actually got started on his new position earlier this summer. Whenever he had the time, he would go to the school and meet with the man he replaced, Tom Pierce. The retired athletics director tried to impart all the knowledge he could "without making my brain explode," Schroeder said. And even though Pierce now teaches math in the Oskaloosa school district, he is always a quick phone call away for Schroeder.
"I can call him whenever I need help and I've already done that a couple times," Schroeder said, adding Pierce always has the solution. "He's a great source for me."
His predecessor helped him learn the ropes but Schroeder said secretary Dee Gill has been just as important as he gets acquainted with all the paper work and contracts that go along with overseeing the school's activities.
"I've just kind of been thrown in the fire and I'm figuring out things on the go," he said.
With just a few weeks of being on the job, Schroeder said his most important tool has been organization. He tries to stay on top of his task list, even as it grows.
"I have my own list but then daily things come up," he said. "You've just got to be able to adapt and adjust on the go."
Department's expectations
Not only is Schroeder excited about working more directly with MHS principal Mike Bogard, he said, but he also thinks the school's sports programs are on the way up. With fall sports about to get started, the new AD is looking forward to football, volleyball and cross country. Specifically, he is happy to see what's in store for the volleyball team, which has a new coach, Ashley Davies.
"I'm happy with the way things look, the direction we're all going," Schroeder said. "I'm just going to do the best I can to get them what they need."
As athletics director, Schroeder said he doesn't have specific goals or expectations in mind for each team. He said he is there to help out the coaches with any problems and answer questions. Schroeder's influence, he pointed out, will have little to do with a team's success.
"A lot of it, to me, is gonna have nothing to do with me," he said. "If football's good this year, I had nothing to do with it. Coach Stewart, his coaching staff, those kids, they've done all the work. I'm just here to make sure the referees show up."
Even so, McLouth coaches think Schroeder will be a solid AD.
"I think he'll do a great job," Stewart said. "He's a hard worker and he really enjoys sports and you can tell just by the amount of work he puts in as basketball coach."
Bulldogs softball coach Ballard Patterson agreed.
"Jason will work hard, there's no doubt about that," Patterson said. "He's been a coach for a long time, long enough to know what's needed for the coaches and what's going to be the best scenario for the kids."
Plus, Schroeder said, he already knows from experience that he will have to be ready to adapt. He said he thought he was prepared when he became the boys basketball coach at 23.
"Quickly, you learn there's a lot of stuff I didn't know," he said candidly. "Because that happened to me, I learned a lot."
And he is ready to learn some more.