There's a new Loomis in charge
Son replaces father as Chieftains baseball coach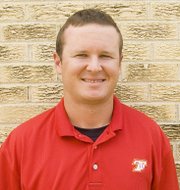 Next spring, when a Tonganoxie High baseball player addresses "Coach Loomis," the skipper looking back at him will be roughly 30 years younger.
Phil Loomis, who managed the Chieftains the past five seasons, recently resigned as head coach of the program. He did so knowing his son, Mitch Loomis, a Tonganoxie assistant coach, would have a shot at taking his place. And that's exactly what happened when the school board approved Mitch for the position at its Aug. 16 meeting.
This past spring, Phil had retired as a teacher but said he planned to stay on as the THS baseball coach. So when he inquired with Mitch about his interest in taking over the reins, it caught his son off guard.
"I thought he was gonna go a couple more years, at least," Mitch said.
At 55, and still possessing a fire for the game, it wasn't old age or lack of interest that led Phil to bow out early. As he described it, "an opportunity I might get involved with" came up and he thought it might conflict with his coaching schedule at Tonganoxie. He said the "opportunity" is "outside of coaching," and because he won't know for sure about the situation until early next year, he felt it would be better to make a change now.
Though surprised with the timing of it, Mitch supported his father's decision and thinks Phil will really embrace being retired. In the meantime, Mitch is excited about his opportunity to be a head coach after spending the past four years as a THS assistant.
"It's not something we'd ever really talked about," Mitch said of serving as his father's successor. "It was something I'd always hoped would happen, I guess."
After working his way up through the baseball ranks as a player — first at Topeka-Seaman, then Dodge City Community College, then Northwest Missouri State University — Mitch assumed he would have to do the same to land his first head coaching gig. He thought the chance of leading a program would come but assumed he would have to start off small at a Class 1A, 2A or 3A school. Instead, he got the "once in a lifetime" chance to take over at 4A Tonganoxie at the age of 24.
"It's a great place to start a foundation," Mitch said.
The relatively young age of the new coach, THS athletics director Brandon Parker said, was part of what worked in his favor, because he isn't too far removed from being a player.
"He understands today's athlete," Parker said.
But there was more to it than that, of course.
"Mitch from Day 1, when he first interviewed with us, has impressed us with his knowledge of the game," Parker said, "but also with his relationship with the students."
Plus, the fact that Mitch has gleaned so much from Phil, who started the baseball program at Seaman and coached there 12 years, didn't hurt either.
"He's learned from a pretty dog-gone good coach," Parker said.
Though there will be minor differences in Mitch's style from his dad's, his approach won't be an overwhelming change.
"A lot of things will be the same," Mitch said. "Obviously, he's where I get the majority of my baseball know-how from."
Not surprisingly, Phil thinks his son, who he described as a good motivator, will be equally good as a head coach.
"He has a very strong desire for excellence and I think that's the biggest thing," Phil said.
Now that he's the head coach, Mitch said he wants to get the whole team moving in the same direction.
"I'm a firm believer in that to be real successful, you've got to have the kids embody the coach you are," he said.
Because the new THS baseball coach is intense, he thinks that will be the characteristic the Chieftains mirror on the diamond.
"It'll be an intense period when we're playing," he predicted.