Tough week sets tone for Tonganoxie soccer season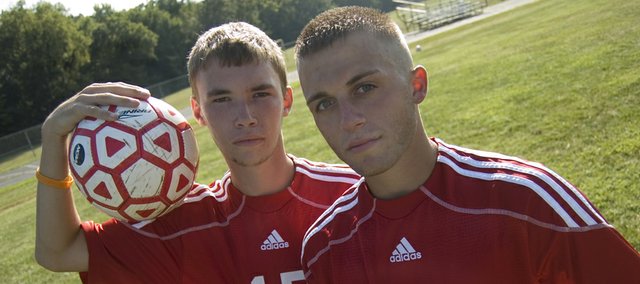 As far as first impressions go, Tonganoxie High boys soccer players won't soon forget the one new head coach Brian Kroll had on them — they might even have the tire treads by which to remember it.
To make sure the Chieftains were whipped into shape, Kroll put the team through three straight days of what he called "Hell Week." The coach promised the physically demanding drills, including a series of core workouts in the sand, would make the players feel like they were hit by a truck, the truck backed over them to see the carnage and then ran over them once more on its way down the road.
Call it tough love from the new man in charge, "Coach K," as the players call him. But players don't loathe the way he shows that he cares. Senior Jake Willis said Kroll brings the team necessary discipline and although "Hell Week" made even the toughest athletic endeavor of Willis' past seem like a walk in the park, it separated those who really wanted to play on the team from those who didn't.
The team's other senior, Quinten Olson, said the effectiveness of the intense workouts showed in the team's 1,000-meter timed runs. From the first day to the third day, everybody's time improved, some by more than a minute.
"It was extremely hard, but it works," Olson said.
Willis praised Kroll's approach.
"He has a plan for everything and is able to apply it to us," Willis said. "We've got a good group of guys who want to listen to him."
The team's leader is Matt Briggs. Named captain on the first day of practice, the junior isn't going to turn heads with his vocal chords, but his professional approach to playing should do the trick.
"I'm just trying to stay encouraging," Briggs said, "trying to be a role model. I'm trying not to slack."
Kroll said someone will emerge as a vocal leader, and he is getting everything else out of his captain.
"Briggs is my leader by sight," Kroll said. "When you watch Briggs, it makes you want to give more because there's no quit in him at all."
The coach hopes his captain's attitude will rub off on the rest of the team. With returning players such as Keaton Truesdell, Marcus Titterington, Matt Saathoff, Joseph Parino, Tyler Bartholomew, Cody Martin and Conner Kietzmann, as well as seniors Olson and Willis, THS has a core on which Kroll can rely. The biggest challenge for the Chieftains will be building upon the success of last year, when they won a regional playoff match and went 7-9-2. They will try to do so without a number of key pieces who have graduated.
"We are young and we are not going to be as physical or as tough-looking as we were last year or even the year before," Kroll said. "But what we are lacking in that, we have actually made an advancement in skill level and talent. And that is not a shot at the kids that we lost. If anything, it is a pat on the back for those kids that we still have."
Tonganoxie even expects a boost from underclassmen. Sophomores Zach Tallent, Jeremy Fox and Dallon Price, as well as freshmen Ben Edmonds, Evan Lott and Evan Stilgenbauer all could compete for minutes. Briggs said it's nice to see new players have an immediate impact as the team develops an identity.
"It's almost like a new 11 have stepped up," the captain said.
Olson said the team is transforming well.
"It's going really good because a lot of the younger guys are bringing skills," he said. "It's not that hard to be a senior with such a good young group of kids. I'd actually rather have a lot of young kids instead of a bunch of seniors, because you get that mojo 'I'm in charge' thing going on. But now everybody listens to the captain and he listens to coach, so it works pretty well."
Now that the coach has introduced the team to his expectations, the Chieftains know Kroll wants the best out of them. He may be tough, Edmonds said, but he is that way for a reason.
"I think he's a nice guy and he wants us to get better," the freshman said.
The THS season begins at 4 p.m. Friday, when the Chieftains play at Baldwin.