Jayhawk fans to gather at Bonner Price Chopper for pep rally, Harvesters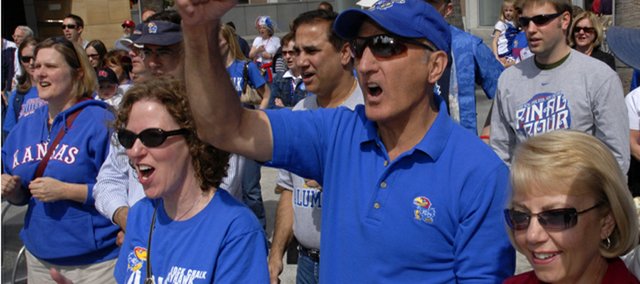 The Bonner Springs Price Chopper, 501 Commercial Drive (K-7 and Kansas Avenue), will have a Kansas University pep rally from 4 p.m. to 6 p.m. Saturday, Aug. 28, to help gather goods for Harvesters.
This is the second year the grocery chain has used the friendly competition among fans of KU, Kansas State University and the University of Missouri-Columbia to benefit Harvesters—The Community Food Network. The "Game On Against Hunger" drive is being launched this weekend with pep rallies for each of the three schools at various metro Price Chopper stores. For the KU rally Saturday, cheerleaders and Big Jay will be on hand to pose for pictures with those in attendance
Until Oct. 21, all Price Chopper stores will have three Harvesters barrels designated for KU, KSU or MU. Fans can donate food in their favorite school's barrel, all of which will go toward feeding hungry people in the community.
Last year's Game On Against Hunger campaign collected enough food to create more than 8,000 meals for hungry people in Kansas City. MU barrels collected the most food, followed by KU and then KSU.