THS

soccer drops physical match
Chieftains lose season debut at Baldwin, 1-0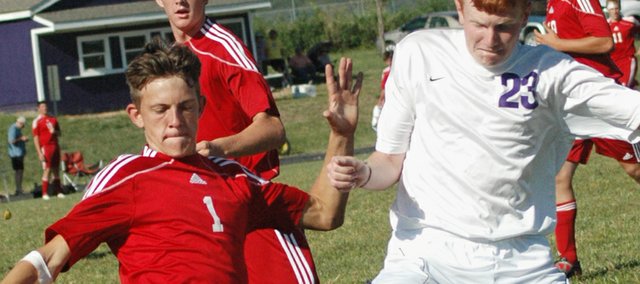 In more ways than one, the Tonganoxie High boys soccer team had a tough start to the season Friday at Baldwin.
Not only did the Chieftains lose their season opener, 1-0, to BHS but they learned that some teams are more than ready to play a physical brand of soccer.
Coach Brian Kroll, who made his debut as THS head coach, said physicality was the difference in the match because Baldwin played with it and, for the most part, Tonganoxie did not. Kroll said he wanted to see more fight out of his squad, even though BHS had more upperclassmen and the Bulldogs only won by a single goal.
"I understand that," he said, "but at some point, it's got to challenge them to step up. Talent, finesse and skill will only get you so far."
No one on the THS roster felt the brunt of Baldwin's physical play more than junior captain Matt Briggs. Just more than 10 minutes into the match, Briggs was trying to make a play in the air by flicking a header and ended up bashing his head against a Baldwin defender. The collision created a gash on Briggs' head, above his right eye. Although the cut eventually would require six stitches, the captain had the wound taped up and after missing roughly 20 minutes of action, he returned to the pitch.
Kroll praised Briggs for showing his toughness and playing hurt. But the coach said the captain's display didn't inspire his teammates like he hoped it would.
"I would like to say that it showed them dedication and that will to want to win and be successful, but I'm not sure that's what it did," Kroll said. "I think Briggs going down the way he went down kind of put a little bit of fear into everybody."
Obviously, the coach didn't want any other players getting hurt, but, he said, the potential for that happening shouldn't deter a player's approach.
The match was scoreless at the half but Tonganoxie (0-1) had only two realistic chances the entire match at putting the ball in the back of the net. Senior Jake Willis had a break-away with a good look at the goal but he had one extra touch that made it unsuccessful. At another point, while fighting for the ball, Briggs made a strike that went right at the Bulldogs' goalkeeper. Kroll said THS needed more scoring chances.
"You can't test the goalie when you don't shoot at him," he said.
If Tonganoxie wants to get in the win column, Kroll said, the team needs to follow its game plan and be ready to compete. He said neither of those things happened against Baldwin.
"We showed up, we played a game and we went home," the coach said. "And at the high school level you can not show up and play. You have to show up and compete."
The Chieftains are back on the road at 6 p.m. Tuesday for a match at Bonner Springs.