Chieftains enjoy themselves at volleyball opener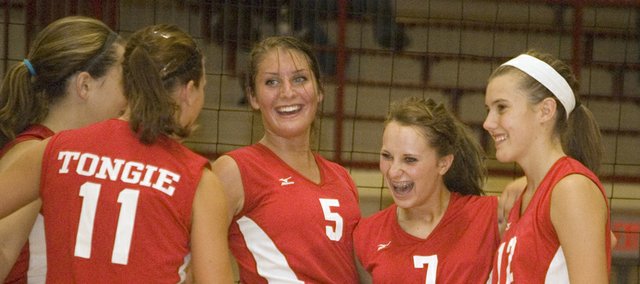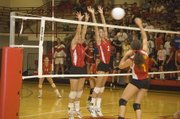 More than happy to get the season started, the Tonganoxie High volleyball team quickly disposed of Atchison Tuesday night.
The Chieftains rolled to victories of 25-6, 25-14 and 25-12 to grab an easy home victory in their 2010 opener.
THS co-coach Brandon Parker said his squad played well because the players communicated.
"When that happens, our team has a lot of fun," Parker said.
Tonganoxie had plenty of chances to kick back and enjoy the night, which seemed more party than challenge. The Chieftains' largest deficit of the evening was two points and that came early in the third and decisive game of the best-of-five match. However, they quickly turned a 5-7 deficit into a 12-7 advantage and closed out the match on a 13-5 run.
Parker was happy with the team's serving, noting the effectiveness of sophomore Jenny Whitledge — "She really put the ball where we needed it," he said.
The coach also complimented the THS setters and passers, saying Megan Hummelgaard and Molly O'Hagan controlled the back row. Kailan Kuzmic, he added, showed off her hustle.
There wasn't much for the coaching staff to complain about but Parker said there obviously is room for improvement.
"We've got a lot of things to work on," he said. "It's August 31."
The Chieftains will have plenty of time to hone their skills before they are back on the court for live action again. Tonganoxie's next match isn't until 7 p.m. Sept. 9, when the team plays host to Baldwin.