Smells like football season
Chieftains seeking sweet scent of victory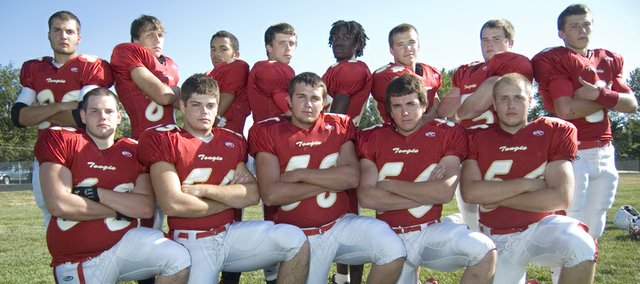 A Sniff of 9-0
A year ago, the Tonganoxie High football team lost four times, all by seven points or less. Though they were 5-4, the Chieftains remember how close they were to 9-0.
2009 THS Losses
Osawatomie, L, 36-33
At Basehor-Linwood, L, 28-27 2OT
Piper, L, 25-22
At Bishop Ward, L, 14-7
The stench of used, sweat-soaked uniforms isn't the only odor floating around the Tonganoxie High football locker room.
Though the Chieftains might not have enjoyed the aroma of an undefeated season a year ago, the players returning from 2009's 5-4 team think they caught a whiff of perfection blowing through the fall air after suffering through four close losses — one in double overtime — by a combined 14 points.
Tonganoxie players and coaches liked the sniff of success and would prefer that sweet-smelling perfume take over this season and replace the funk that comes with a pile of losses.
As the Chieftains prepare to start their 2010 season, coach Mark Elston said last year's results are a driving force.
"It makes us realize how close you are," Elston said. "Yet, the difference between 9-0 and 0-9 is not that great. You've got to execute on everything."
The coach said his team often is reminded that there is no room for error and finishing strong at the end of practices has been a theme. It was finishes, after all, that kept THS out of the postseason last year. Tonganoxie was 0-3 in district play, losing 28-27 to Basehor-Linwood, 25-22 to Piper and 14-7 to Bishop Ward. It just so happens the Chieftains get to see two of those teams — Ward and Piper — in the first two weeks of the season. Elston is glad the schedule turned out that way, giving his team some solid tests (and chances at payback) before THS takes on the Kaw Valley League's Class 5A schools, which have not been on the schedule since 2007.
"Each team's unique every year but having those two (Ward and Piper) on our schedule right off the bat is definitely motivation for the kids because they can redeem themselves real quick and have the opportunity to springboard into a great season versus some opponents we haven't seen for a couple, three years," Elston said.
While last year's losses will be in the back of the players' minds, senior quarterback Jeremy Carlisle said, that won't be their focus. He said Tonganoxie needs to approach every game as if a championship was on the line.
"Many teams looked at us last year and said, 'Oh, it's Tongie. They're small. We should be able to beat them.' Well, we were in every game that we didn't win," Carlisle said. "We can't just not take teams seriously."
THS opponents will have some serious skill players to worry about. The Chieftains' senior class features a slew of playmakers. Carlisle has the option of handing off or throwing to senior backs Tucker Hollingsworth, Shawn Marin, Ian McClellan, Dylan Scates and Jeff Sims and receivers Austin Vickers and Adrian Whittington. Elston said the team's skill players might be better than a year ago.
"Even though we had a lot of speed last year, offensively in the skill positions I think we are actually upgraded from last year," he said, "because we do have a couple more guys that we can get the ball to."
Vickers, who didn't play in 2009 but has impressed THS coaches with his hands at wide receiver, said the senior skill players will determine this season's success.
"I'm guessing that the seniors are either gonna make or break the season," Vickers said. "If we play to full potential, we'll be great, but if we play average to regular… you can expect basically the same thing as last year."
Of course, the playmakers will need some help from the guys in the trenches. Entering the season opener, Elston said the offensive line is led by Lucas Ahart, Dylan Fosdick and Justin Francis, with two capable centers in Jonas Myers and Connor McClellan. He stressed, though, that competition for playing time is ongoing.
Sims, who noted the improved line play of AJ Gilbert and Jacob Cannon, said if the linemen give the backs and receivers time, they will deliver.
"We lost a lot of linemen, but we've got a lot of linemen who can get it done," Sims said. "We have faith in them. If they just hold their blocks for three seconds, with the speed we have, we're good."
Things on the other side of the ball don't seem as certain. Elston said Francis and Ryan Lynch are the only players who have secured starting spots on the defensive line. At linebacker, only Myers is penciled in as a starter. But there is some good news in the secondary for Tonganoxie. With Carlisle, Marin, Scates and Sims all returning and Derek Lingo and Garret Elston looking like they will be part of the rotation, the team has one defensive area brimming with confidence.
"We're pretty well stacked," Sims said of the secondary.
Depth likely will be the biggest challenge for the Chieftains. Ideally, Elston said, he would have 11 players line up on offense and put 11 others on defense. But that won't be possible for THS.
"You've got to have your best athletes on the field," the coach said. "It's going to be imperative for us to find those second-tier guys that can come in for 10 to 15 plays a game. We've got to have those guys Friday-night ready."
If last season is any indicator, Friday nights often will come down to the fourth quarter. Late in the game, Francis said, the Chieftains will have to finish stronger. If they do, the locker room might not smell as bad as it did a year ago.
"We were so close to being 9-0 and I think if we can fix most things, we can be 9-0 this year," Francis said.
Tonganoxie's season begins at 7 p.m. Friday at Beatty Field when THS kicks off against Bishop Ward.