Tonganoxie cross country teams ready to hit trails, compete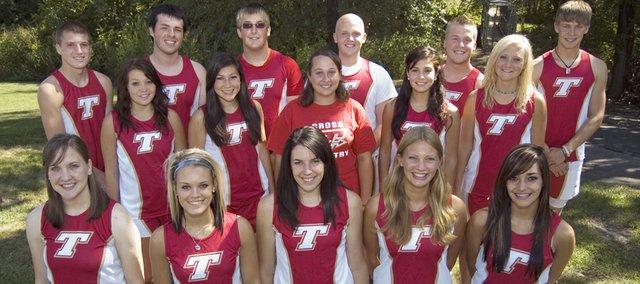 Although they are older and more experienced, as they prepare for the season, returning Tonganoxie High girls cross country runners have shown up in an interesting place — the rear-view mirrors of a few freshmen.
Even senior Alex Hauk, a second-team all-Kaw Valley League selection a year ago, at times has had trouble keeping pace with the talented freshman class.
"Me, I'm working my tail off trying to get up with those girls," Hauk marveled.
Those girls, who could all end up running varsity, are Hunter Cook, Taylar Morgan, Emily Soetaert and Emma Stilgenbauer. That list, coach Phil Williams said, also would have included Alyssa Donnelly, had she not injured an ACL a couple weeks ago.
Hauk said the freshmen are in a position to dominate the roster because they work the hardest.
"Those are the ones that stand out to me, because they're always pushing," she said.
Because the freshman class was so successful last year at Tonganoxie Middle School — the eighth-grade girls won all but one of their meets — Williams knew they could make an immediate impact this year. In fact, the coach said the newcomers could carry THS to some top-three finishes at events and Soetaert has the potential to be the Chieftains' top performer if she keeps a good attitude.
Given the impact the freshmen are expected to make, Williams said there is a lot of competition for the varsity spots, even among returners Nikki Beggs, Lindsay Cox, Nicole Gersbeck, Parker Osborne, Cristina Rubio and Sarah Williams.
"A few of those may not make it back on (the varsity team) with the freshmen," Williams said.
Even Hauk, one of the team's senior leaders who is trying to be the Chieftains' top runner, said one of the freshmen could lead the way this year.
"I wouldn't be sad if I was the second again," she said, "just because I know they're working just as hard as me."
Boys pack it up
Tonganoxie's boys cross country team has a clear-cut top four leading the way into this season. Senior Keith Slater said he, Dalton Harrington, Caleb Himpel and Patrick Rachford aren't too far apart in ability and they've been running in a pretty tight group.
"We definitely have four top runners," Slater said. "We all try to stay close together, which is a good thing about this year.
"Last year, we had people up ahead of the pack, behind the pack. This year we've got a good group of four solid guys that stay together and hopefully move the pack."
According to Slater, Himpel, a junior, is most likely to challenge for top-10 finishes among the boys. But, he added, Rachford has displayed vast improvement from last season and has been keeping pace with Himpel.
"He (Rachford) used to be about as fast as me and now he's beating me in about everything," Slater related. "It's really cool that we have two really strong runners that can keep up with the top 10 runners at all times."
Returners Joel Dunning and Brady Field, as well as a newcomer, senior transfer Danny Byron, will be in competition with 11 other runners to fill out the varsity roster.
As Williams put it, "There's just a group that's a little ways behind our top four."
When the boys are competing, Slater said, the Chieftains should be capable of finishing high in the team standings.
"We feel confident we can get in the top five, maybe the top three," the senior said.
There will be only two schools competing at Tonganoxie's first meet of the year, though. At 5 p.m. Thursday, THS begins its season by playing host to a dual with Lansing.