County Commission considers stricter rules for fee waivers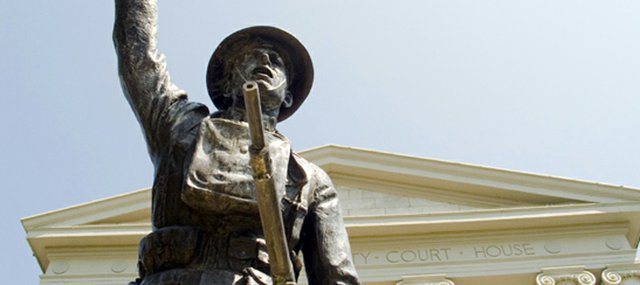 After an upswing in unincorporated Leavenworth County residents asking the county to waive building fees for homes built on agricultural property, the County Commission on Monday tackled the issue of establishing more specific standards for waiving those fees.
County planning and zoning director Jeff Joseph and County Counselor David Van Parys presented to the commissioners a plan to prevent abuse of agricultural building fee waivers by requiring a more extensive application process.
Joseph said that this year at least a dozen residents had asked to have building fees waived for dwellings to be constructed on agricultural land, after he'd never received such a request before. The residents are taking advantage of a state statute that allows buildings used for agricultural purposes to be exempt from such fees.
Van Parys said Kansas court rulings have established that a house or other dwelling could fit under that exemption, as long as it was used by a farmer working on the land and the land was primarily used for agricultural purposes.
"You can't have a recreational horse ranch, or whatever, or have one cow out in the middle of 20 acres," Van Parys said.
The new application process would attempt to restrict the fee waivers to real farmers, Joseph said in a briefing report given to the commissioners. He said the county's current policy requires an applicant only to sign a form stating that a new building would support agricultural activities on a property, making it possible for someone to claim a fee exemption fraudulently, perhaps without even operating a farm at all.
The new application, based on one used in Riley County, would require applicants to submit information about the proposed house or dwelling, descriptions of their agricultural operations and tax documents proving that the farm provides their primary income. Under the planning and zoning department's recommended plan, the county commissioners would review the application.
Agricultural fee exemptions allow for the waiver of not only building permit fees, which typically are less than $100, but also road impact fees and traffic impact fees, which can run up to several thousand dollars for some buildings, Joseph said.
The commissioners each raised concerns they had with the fee waiver system.
Commissioner J.C. Tellefson said he'd like to strike a passage from the county planning and zoning regulations that includes dwellings among buildings that can be used for agriculture. He said the passage might make the commissioners to feel forced to accept fee waivers for any dwelling on agricultural land, while striking it would give them the opportunity to review such requests case by case.
"Somebody needs to challenge this at some point," Tellefson said of the passage.
Commissioner John Flower suggested classifying properties larger than 40 acres as having agricultural purposes, while requiring fee waiver requests for smaller properties to be reviewed by the commissioners. Commissioner Clyde Graeber said he wanted to make sure that farmers receiving the exemptions were not working primarily in other jobs away from the farm.
The commissioners ultimately voted, 3-0, to delay action on the fee waiver policy and ask the planning and zoning department to present more detailed proposed regulations.
Also on Monday, the commission:
• Approved, 2-1, the preliminary and final plats for the Overlook Ridge subdivision south of Lansing, with Tellefson opposing.
• Voted, 3-0, to send the preliminary and final plats for the Heartland Estates subdivision, southwest of Basehor, back to the planning commission for more discussion.
• Approved, 3-0, a special use permit for a veterinary clinic northwest of Leavenworth.
• Approved, 3-0, a special use permit for a horse training and boarding facility southwest of Leavenworth.