Ye olde time at upcoming Feaste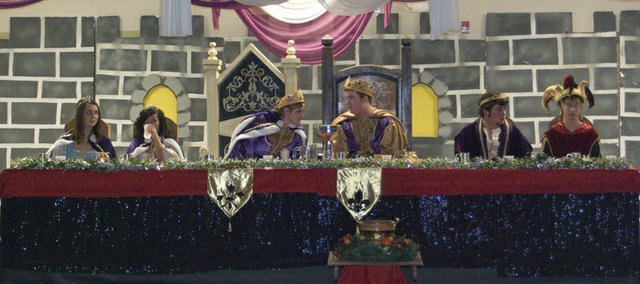 Each December, the Tonganoxie Middle School commons area receives a retro makeover.
Tom Gifford, vocal instructor at Tonganoxie middle and high schools, said that's what he enjoys most about the Madrigal Feaste, which will be 6:30 p.m. Friday and Saturday at TMS.
"I think just probably the visuals of how the commons area becomes a castle hall and all the students turn into Renaissance era-looking people," Gifford said. "It's just wonderful to see the facility transform 600 years in time."
Decorations have been going up this week in preparation for the event, which is in its ninth year in Tonganoxie. Vocal department students participate in the event, serving up food to guests and performing. Madrigal dinners combine dialogue, Renaissance choral music, and, of course, food. It's an attempt to recreate a holiday feast given by royalty in 15th or 16th century England. Each meal course is announced by trumpet fanfares and singing.
New to this year's lineup is a masque that will be performed right after the main course is served. A masque is a short play that is to be allegorically flattering to the patron providing the feast. The masque this year is called "What Dead Carrier Chicken."
It's a play about a subwoman named Maud and her desire to be queen. The jester tries to help her by running for king as if it were a political election.
"It's a small cast and very thin thread of a plot, just enough to make funny jokes," Gifford said. "It's fun because it has silly jokes and audience participation, so it should be a good one."
Cast members are Bryson Hewins, king; Ashley Stockman, queen; Elliott Brest, jester; Lacie Falk, Maud; Madison Hunter, Prudence; Tre Hesselman, Fairy Godfather; and Rachel Sparks, Taylor Clark, Jonathan Duvall, Bobbi Lindsay, Dominic Pitts and Wes Williams, courtiers.
Members of the Chieftain Singers make up the royal court and the THS concert choir and the TMS eighth-grade choir members perform as well and are the servers and workers for the event.
In addition, the handbell choir from Tonganoxie United Methodist Church will play before the show starts each night.
The event also has about 40 adult volunteers who assist with the event, as well as middle and high school accompanist Carolyn Day, who has been part of every Madrigal Feaste. She and former THS vocal director Joyce Steeby started the event as a fundraiser to replace outdated choir uniforms. Steeby and Day were a part of madrigal dinners at Kansas City Kansas Community College under former vocal music director Dale Shetler. Day said the dinner no longer is put on at KCKCC.
"It's in Carolyn's blood," Gifford said about Day's work with the event. "She lives it 24-7, 365. She'll have prop ideas for madrigal in August. She'll call me and let me know."
Day said she finds items at what she calls the "boutique," the Good Shepherd Thrift Store and Food Pantry in Tonganoxie. She also finds things, such as swords and other items, at garage sales.
She said the key to the Madrigal Feaste being such a success was the community coming together for the event.
"People turn out," Day said. "They have a good heart. This is a good place to live."
Gifford refers to Day as the unofficial "Queen Mother" of the Madrigal Feaste.
Asked about being the Queen Mother, Day pushes off the accolades.
"I'm just Mrs. Day," she said.
But she did note, if anything, she would be Queen Grandmother this year, as Stockman, playing the queen this year, is her granddaughter.
Tickets are $15 per seat. Profits are used to assist the vocal music program. For tickets, contact the high school at 845-2654, ext. 2032.
Guests may start arriving anytime after 6 p.m. each night. At 6:30 p.m., guests will be escorted to their tables by the singers. The show will start as soon as all the patrons are seated.
On average, about 200 guests have attended each night of the Madrigal Feaste in the past, Gifford said.