Bobcats blow out
THS

boys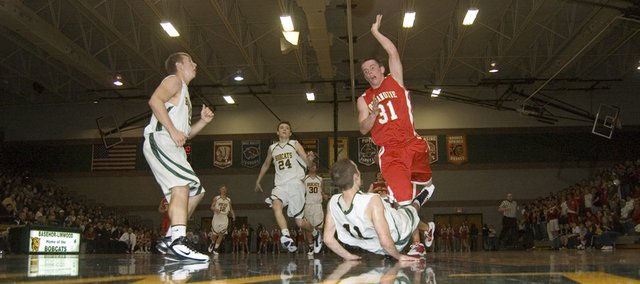 Basehor — Tonganoxie High boys basketball coach Shawn Phillips knew his team wouldn't be able to match Basehor-Linwood's size in the season opener for both teams Friday night.
What Phillips didn't know was that the Bobcats would outmatch the Chieftains in intensity, too.
BLHS pounded Tonganoxie inside with 6-foot-6 twins Colin and Ryan Murphy and rolled to a 62-30 win.
While THS (0-1) couldn't stop the Bobcats from scoring at the rim, Tonganoxie's offense struggled, too. The Chieftains already trailed 9-0 before junior center Dane Erickson scored their first basket and Basehor-Linwood (1-0) just answered with a 7-0 run.
Though THS only scored eight first-quarter points to their rivals' 22, it got even worse in the second quarter. Tonganoxie missed all nine of its shot attempts in the second and totaled four points for the quarter with 4-for-10 shooting at the free-throw line.
By halftime, the road team trailed 39-12. Phillips said his team was outworked and outplayed by the Bobcats.
"Early on, they just came out with more energy than what we did to start with," Phillips said. "They got every rebound, they were very physical with us and we didn't match that intensity level. They got easy buckets — if they didn't score they got a rebound and put it back in."
Erickson scored 16 points and secured 11 rebounds but the only other Tonganoxie player near double figures was senior point guard Jeremy Carlisle, who finished with nine points. The rest of the team combined to hit one field goal (a first-quarter three by Austin Vickers) and score five points.
The Chieftains are idle until a 7:30 p.m. Dec. 14 home date with Bishop Ward.
Score by quarters
THS 8 4 10 8 — 30
BLHS 22 17 18 5 — 62
Tonganoxie scoring
Dane Erickson 6-11 4-7 16, Brady Waldeier 0-2 0-3 0, Dylan Scates 0-5 0-0 0, Jeremy Carlisle 2-10 5-9 9, Austin Vickers 1-3 0-0 3, Ben Williams 0-0 0-0 0, Colby Yates 0-1 2-2 2, Brennen Williams 0-1 0-0 0.