Tonganoxie girls come up short in opener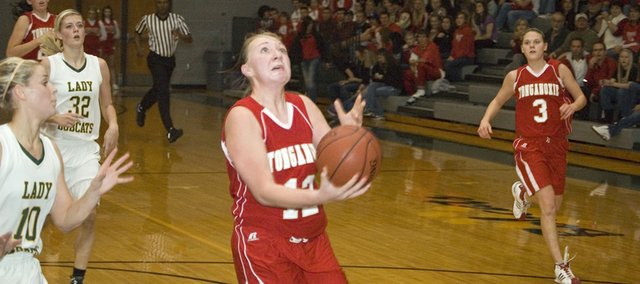 Basehor — A slow start to the fourth quarter kept the Tonganoxie High girls basketball team from opening the season with an upset road win Friday night.
Basehor-Linwood, which went to the Class 4A state tournament last season, held the Chieftains, who won six games last year, scoreless the first 5:34 of the fourth and beat THS, 31-28.
The Bobcats (2-0) forced Tonganoxie into mounting turnovers during the defensive stretch while keeping their road rivals out of the paint and extended a two-point advantage entering the fourth into an 11-point buffer.
Chieftains freshman forward Emma Stilgenbauer ended the fourth-quarter drought with a free throw at the 2:26 mark before THS (0-1) made a flurry of plays in the final minute and a half.
Senior forward Danielle Miller stole the ball at the top of the key and raced down the floor for an uncontested layup that cut Tonganoxie's deficit to eight.
After a Stilgenbauer steal, Miller scored inside with just under a minute to play, putting Basehor-Linwood's lead at 28-22.
Following a BLHS free throw, sophomore forward Jenny Whitledge hit the Chieftains' first three-pointer of the evening with less than 30 seconds left.
Finally, sophomore guard Madee Walker drained another three in the waning seconds.
THS suffered an even longer offensive drought in the second quarter, when Whitledge hit a jumper with about 30 seconds left before the half. The bucket kept her team from going scoreless in the frame. Still, Tonganoxie led, 9-6, at half as both teams struggled offensively.
Whitledge led the Chieftains with 15 points and five rebounds. Miller finished with seven points.
THS doesn't play again until 6 p.m. Dec. 14, when it plays host to Bishop Ward.
Score by quarters
THS 7 2 8 11 — 28
BLHS 3 3 13 12 — 31
Tonganoxie scoring
Haley Smith 0-6 0-0 0, Tayler Miles 1-1 0-1 2, Danielle Miller 2-2 3-4 7, Jenny Whitledge 6-9 2-3 15, Hannah Kemp 0-2 0-0 0, Emma Stilgenbauer 0-1 1-2 1, Amanda Holroyd 0-3 0-0 0, Tavia Brown 0-0 0-0 0, Madee Walker 1-1 0-0 3.