Coming up with nothing
THS

boys disappointed with blowout loss at Basehor-Linwood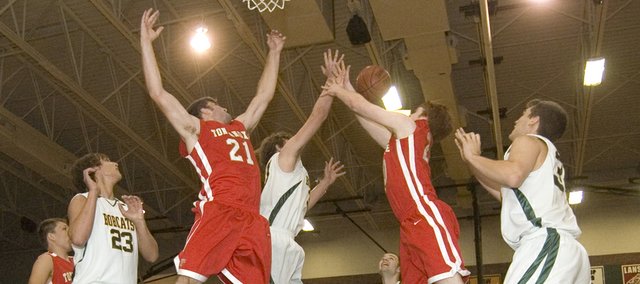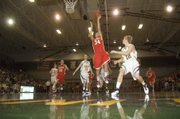 Basehor — Even after a one-sided loss, coaches often can dig through heaps of problem areas to find one positive nugget or morsel of hope. Just something good to glean from a disappointing outcome.
Following the Tonganoxie High boys basketball team's season-opening, 62-30 loss at Basehor-Linwood Friday, however, coach Shawn Phillips couldn't think of anything good that happened for his team.
Phillips pondered for a positive but drew a blank.
"There's nothing I liked. Nothing I liked," he repeated. "We can improve on every single facet of the game, and that's what we're gonna work on next week."
The Chieftains were out of the game before they knew what hit them. They were down 16-2 late in the first quarter and the hole kept expanding. THS trailed by 27 at halftime and 35 after three periods, leading to a running fourth-quarter clock — the ultimate sign that the losing team doesn't stand a chance.
The game wasn't pretty for the Chieftains. Basehor-Linwood's assertiveness and physical play all over the court — and Tonganoxie's relative inability to match it — made the game a rout.
"They were very aggressive defensively, and we were a little timid with the basketball at times, so it kind of started to snowball on us and put us in a bad situation," Phillips said.
While THS turned the ball over often, the Bobcats (1-0 overall, 1-0 Kaw Valley League) attacked the rim on offense. When they missed, they pounded the glass and scored second-chance points. Junior BLHS twin forwards Colin and Ryan Murphy combined for 31 points (one more point than Tonganoxie's nine players scored) and senior guard Evan Theno finished with 11.
Junior center Dane Erickson's double-double of 16 points and 11 boards led the Chieftains (0-1, 0-1), who also got nine points from senior point guard Jeremy Carlisle.
Overall, Phillips said he was disappointed with his team's intensity.
"We had a couple of kids who came to play and we had a few more kids who played like they weren't quite ready for the type of game that it was," the coach said.
It was a physical contest, especially for Erickson. The Bobcats' deep rotation of post players with size and energy gave him different looks throughout the night while he saw little time on the bench. The junior pivot said that his team should be able to play with the fire displayed by BLHS, though.
"We're definitely capable of playing with higher intensity, we just need to box out more and go after loose balls," Erickson said. "We just didn't do that tonight."
Hustle plays are important to Phillips, and he was disappointed to see Basehor-Linwood win that area of the game, too.
"We just got outworked, and that should never happen," the coach said. "If you get outworked, you're not gonna win very often."
Also detrimental to winning: lack of scoring. That plagued THS throughout the loss. The Chieftains had just three buckets in the first quarter (two from Erickson and a three from senior guard Austin Vickers) before going 0-for-9 in the second quarter. Erickson scored two field goals and Carlisle added one in Tonganoxie's 10-point third quarter and the duo repeated that in the fourth as THS finished the game with nine field goals. The team's 30 points matched the lowest total Tonganoxie has scored since Phillips became the coach before the 2008-09 season.
Erickson said higher point totals will come.
"We need to work on running our offense," he said. "We didn't run that very well. Once we get that figured out, we'll be more competitive."
Of course, more competitive games will come with better defense, too, Phillips pointed out. He said BLHS played a more physical brand of basketball, particularly defensively.
"They went after the basketball," Phillips said of the Bobcats. "They went to get it, they didn't let the ball come to them."
The third-year THS coach would have liked to have seen much more from his team in its debut, but Phillips said there is plenty of time for the Chieftains to address the issues that came up at Basehor.
"It's early. It's one game," Phillips said. "The season's not over after one game."
Perhaps there is something positive about the loss after all.
Tonganoxie next plays at 7:30 p.m. Tuesday, when Bishop Ward visits THS.
Score by quarters
THS 8 4 10 8 — 30
BLHS 22 17 18 5 — 62
Tonganoxie scoring
Dane Erickson 6-11 4-7 16, Brady Waldeier 0-2 0-3 0, Dylan Scates 0-5 0-0 0, Jeremy Carlisle 2-10 5-9 9, Austin Vickers 1-3 0-0 3, Ben Williams 0-0 0-0 0, Colby Yates 0-1 2-2 2, Brennen Williams 0-1 0-0 0.