Defenses dominate in league opener for Chieftains, Bobcats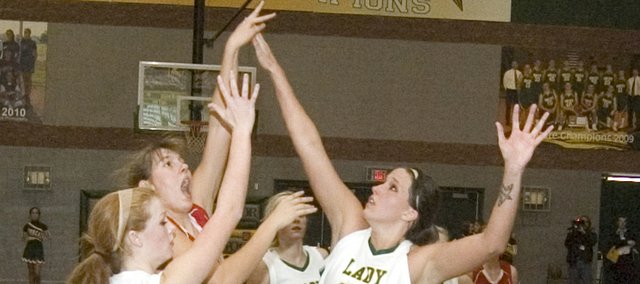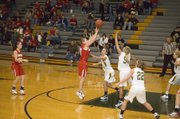 Basehor — The tape from Friday's girls basketball game between Tonganoxie High and Basehor-Linwood won't make too many highlight reels.
Defense, turnovers and tough shots characterized most of the Bobcats' 31-28 victory at BLHS, which didn't surprise Chieftains coach Randy Kraft, who thought the defenses would make both offenses look poor.
"It was what I expected. Both teams played defense real hard," Kraft said after his team's season-opening three-point loss. "It showed in the first half: Early in the year, defense is ahead of offense. Nobody could hardly hit a basket or get a good shot."
Indeed. Tonganoxie's lone basket of the second quarter came from sophomore forward Jenny Whitledge in the final minute of the half and THS still somehow went to the locker room with a 9-6 halftime advantage.
The Chieftains held Basehor-Linwood (2-0 overall, 1-0 Kaw Valley League) to three points in each of the first two quarters by contesting shots, harassing the Bobcats' go-to inside scorer, senior forward Megan Bergstrom, and getting her in early foul trouble.
As Basehor's defense troubled Tonganoxie (0-1, 0-1) as well, the road team managed to make the most of a few opportunities in the first quarter to get out to a 7-3 lead. Whitledge knocked down a couple of jumpers and hit both of her free-throw attempts in the first on her way to a 15-point, five-rebound night.
Although Whitledge scored more than half of her team's points and senior Danielle Miller (seven points) was the only other THS player to score more than one field goal (Tayler Miles and Madee Walker each made one), Kraft said he wasn't too concerned about the lack of production from other spots, because BLHS took away open looks for the rest of the Chieftains.
"Jenny, with her length and her quickness, can get shots off that other kids can't. We've got kids that can shoot. Basehor did a really good job of covering up people and not allowing us to get to those (looks)," Kraft said, adding the Bobcats had to back off Whitledge and respect her driving ability.
Most of the night, quality shot attempts just weren't available for Tonganoxie and a difficult start to the fourth quarter, which began with the Chieftains down 19-17, was the worst stretch, because turnovers and a sudden inability to get the ball in the paint allowed BLHS to stretch its lead to as many as 11 points and hang on for a win.
The first 5:34 of the fourth quarter, THS couldn't score. Kraft said fatigue set in during that stretch before a late 11-3 push in the final minute and a half made the score much closer.
"We're young and there was a period when we made a lot of young mistakes — turned the ball over a few times there and kind of let them get out in front of us," Kraft said.
Miller said part of what made the Bobcats' defense so effective was Tonganoxie's struggling zone offense.
"The main offenses we've worked on are man offenses," Miller said, noting it was hard for THS to find shots against Basehor-Linwood's 3-2 zone. "We've kind of struggled with our zone offenses a little bit."
The defensive-minded Kraft, though, couldn't help but be pleased with the way the Chieftains challenged BLHS on its home floor — the Bobcats didn't take their first lead of the game until late in the third quarter — and held the 2010 Class 4A state tournament qualifiers to 31 points. The coach said his team only had a few lapses during which it didn't rotate or communicate properly.
"Ninety percent of the time we played great. It was what I was hoping for," Kraft said. "They did a good job of helping each other, didn't give up anything too easy. There were just those periods where we gave up four or five really easy baskets, which we shouldn't."
Tonganoxie's late push to cut the deficit to three — thanks to two layups from Miller and three-pointers from Whitledge and Walker — pleased Kraft as well.
"I'm real proud of the kids," he said. "They battled back from 11, lost by three. I thought they did a great job of understanding how to get themselves back in the game."
Miller said the Chieftains have much to work on but she is looking forward to the team's improvement.
"I'm pretty excited to see what we can do later in the season, because we'll see Basehor again in Tongie," the senior said.
THS is off until a 6 p.m. Dec. 14 home date with Bishop Ward.
Score by quarters
THS 7 2 8 11 — 28
BLHS 3 3 13 12 — 31
Tonganoxie scoring
Haley Smith 0-6 0-0 0, Tayler Miles 1-1 0-1 2, Danielle Miller 2-2 3-4 7, Jenny Whitledge 6-9 2-3 15, Hannah Kemp 0-2 0-0 0, Emma Stilgenbauer 0-1 1-2 1, Amanda Holroyd 0-3 0-0 0, Tavia Brown 0-0 0-0 0, Madee Walker 1-1 0-0 3.