THS

wrestling opens season 5th at duals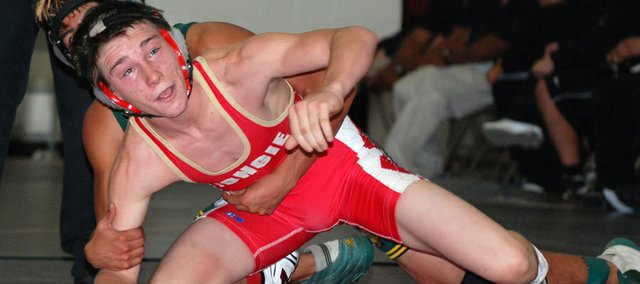 TONGANOXIE VS. KVL
The Chieftains went 3-2 in Kaw Valley League duals Saturday at Lansing.
Turner, L 53-20
Bonner Springs, L 45-35
Piper, W 44-33
Bishop Ward, W 71-6
Basehor-Linwood, W 58-20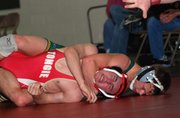 Despite getting into an early hole with losses in its first two duals Saturday at Lansing, the Tonganoxie High wrestling team rattled off three straight victories at the Kaw Valley League Duals and finished fifth at its season-opening event.
The Chieftains began the day with a 52-20 loss to Turner, which went on to take first place, and in their second dual, they fell, 45-35, to Bonner Springs, ranked No. 7 in the Class 4A pre-season rankings by the Kansas Wrestling Coaches Association.
THS coach Jeremy Goebel said his team's slow start was easy to figure out.
"The things that cost us those first two duals were getting pinned," he said.
Because a loss by pinfall costs a team 12 points in a dual, while a non-fall loss costs it six, Goebel wanted the Tonganoxie wrestlers to remember the importance of keeping their shoulders off the mat, especially after losing to BSHS by 10 points.
The Chieftains lost 26 of their 65 matches at the KVL duals, and 20 of those came by pinfall. "That's 120 points against us where if we're just getting beat by points, it's 60," Goebel said.
The lesson wasn't lost on the grapplers, said 125-pound senior Justin Soetaert, who finished 4-1.
"We've just got to stay off our back. That's all there is to it," he said.
After the slow start, THS recovered with a 44-33 defeat of Piper in its pool before dominating against Bishop Ward, 71-6, and knocking off Basehor-Linwood, 51-26, for fifth place.
Soetaert said the slow start was tough.
"It really stinks having to come from behind, but if you can come from behind and be successful, I guess you did something with the day," he said.
Of the 14 wrestlers Tonganoxie sent to the mat Saturday, nine finished with winning records. In his THS debut, junior Nick Pursel (160 pounds) went 5-0.
Four wrestlers, including Soetaert, went 4-1. His brother, Matt Soetaert (145), finished with that mark, as did a pair of freshmen, Clayton Himpel (112) and Dylan Yates (119).
Goebel said he was impressed with the freshmen, as well as heavyweight Zeke Kissinger, who finished 2-1.
Three other wrestlers — Caleb Himpel (130), Britton Price (135) and Jonas Myers (189) — finished 3-2 at Lansing.
Adam Thomas (140) went 2-3 and Ian McClellan (152), Thomas Miller (171) and Hank Somers (hwt.) each won one match.
"We definitely had every kid step up somewhere," Goebel said, noting that THS is on the right path. "We've got to overcome those little things that cost us some big matches in the duals."
The coach said his team also learned Saturday that it should be enthusiastic about this season, because Tonganoxie can compete with the other teams in the KVL.
Justin Soetaert said one positive sign was the Chieftains' ability to get off to a fast start in their duals with energy in the early matches.
"We're tough (at) 112, 119, 125, and I think if we can just keep that all year, then we're in pretty good position," he said.
Goebel added that the fifth-place finish at the duals was a nice start for the season.
"I thought the kids, in terms of heart and just getting after it, we set the tone for the season," the coach said, before adding, "It's got to get better each week."
This week, beginning Friday at 1:30 p.m., THS travels to Eudora for the Cardinals' annual tournament, which concludes Saturday.
Kaw Valley League Duals
Saturday at Lansing
Team results: 1. Turner, 5-0; 2. Lansing, 4-1; 3. Mill Valley, 3-2; 4. Bonner Springs, 2-3; 5. Tonganoxie, 3-2; 6. Basehor-Linwood, 2-3; 7. Piper, 1-4; 8. Bishop Ward, 0-5.
THS individual results
(Weight class — wrestler, record)
112 — Clayton Himpel, 4-1
119 — Dylan Yates, 4-1
125 — Justin Soetaert, 4-1
130 — Caleb Himpel, 3-2
135 — Britton Price, 3-2
140 — Adam Thomas, 2-3
145 — Matt Soetaert, 4-1
152 — Ian McClellan, 1-4
160 — Nick Pursel, 5-0
171 — Thomas Miller, 1-4
189 — Jonas Myers, 3-2
215 — Ryan Lynch, 2-3
Hwt. — Zeke Kissinger, 2-1; Hank Somers, 1-1