Blind trust
Tonganoxie man trains nearly sightless mustang for show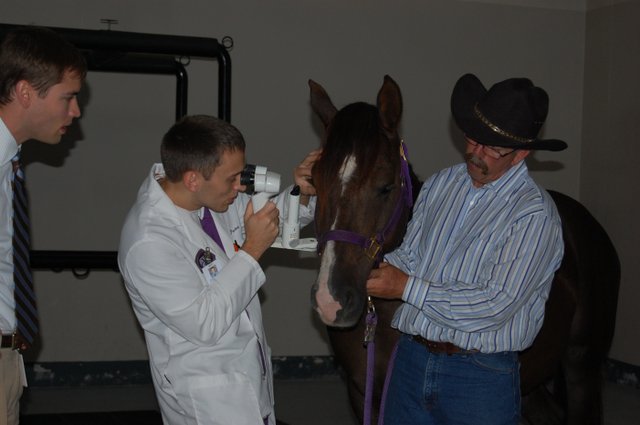 As Jay Miller walked Friday into his stable just south of Tonganoxie, a slight red mare slowly approached the edge of her stall to greet him.
The mare walked tenderly on hoofs Miller recently gave a badly needed trim after buying the neglected horse from her former well-meaning but overmatched owner. Her behavior was in stark contrast to Barlie, a 10–year-old gelding in the next stall, who first stomped the metal gate to let Miller know it was feeding time and then hung his head into the aisle to welcome caressing hands.
The mare is filling out well, Miller notes, and overcoming the shyness she developed in her former life.
"I really didn't need another horse, but she's a nice horse, " he said. "I'm just doing something to help someone who got in over his head."
The stable is filled with nine horses, but it will be home for at least one more. The horse, a 6-year-old wild mustang gelding named Levi, won't be new to the stable it mostly knows through its smells and sounds. Levi currently is in Manhattan, where he is recovering from surgeries to remove cataracts from both eyes.
Miller first brought Levi to the stable in June after picking him up in Elm Creek, Neb., to train for the Extreme Mustang Makeover Show in Lincoln, Neb. The Mustang Heritage Foundation sponsors the show, which matches trainers like Miller with mustangs the Bureau of Land Management culls from wild herds on federal land. The trainers, who must fill out applications with references, then have 90 days to train the mustangs for the show meant to raise awareness of the availability and desirability of wild mustangs.
As the BLM wranglers cut Levi from the herd on a Friday in June, Miller thought it strange when the mustang ran by an open gate that would have separated him from his tormenters.
He noticed more odd behavior later that day when he placed Levi in a round training pen near his Tonganoxie stables. Miller quickly diagnosed the mustang's near blindness when he was able to walk up to Levi from the rear.
"It was about 15 minutes or very shortly after that I understood something wasn't right," he said. "Horses have great peripheral vision. For a wild horse to let you get that close to them from behind, something's wrong.
"I came up farther and still nothing. Finally, I put my hand near his eye, and he took off."
Building trust
Nonetheless, Miller continued to work Levi through the weekend and was riding him by Sunday. On Monday, he called the Mustang Heritage Foundation to inform officials the horse was nearly blind.
"They told me I could bring him back and get another horse," he said. "When I told them I was already riding him, they just laughed. I told them I was going to train this horse. They laughed at that, too.
"I didn't want to go all the way back up there, and I would have felt hypocritical. I got into this to save a horse. If I would have taken him back, they would have just put him down."
Miller estimated Levi had about 10 percent of a normal horse's sight.
"A vet told me it was like looking through Coke bottles with slush in the bottom," he said. "He could make out light and shadows, but that's about it."
The horse had known only the indifferent handling of wranglers and the jostling of other horses at feeding time, but quickly responded to Miller's trust-building training methods.
"Once he figured out I wasn't going to eat him for dinner or beat him, he took to it real quick," he said. "And once he knew he could get food from me, I was his buddy for life."
Among the requirements of the show was that the mustangs perform the gaits of walk, trot and canter. Miller said Levi picked up the gaits with few problems while on the round pen's level, consistent ground. Translating the gaits to the pasture required a bit more trust.
"There's areas of clover in the pasture that were darker green," Miller said. "He would kind of shy when he came to them, but he learned to trust me."
Miller was able to mix in the showy trick of standing in the saddle while on Levi. But the trainer said that was one trick Levi's blindness made easier.
"Horses don't like to see something above them, so it's a real sign of trust when you can stand in the saddle," he said. "But if he can't see it, it doesn't scare him."
Surgery
The judges weren't told of Levi's blindness until after he finished 18th out of the 40 mustangs in the competition, Miller said. He didn't want special treatment, but Miller said he wished those in the stands could have been informed so that they could have better appreciated Levi's accomplishments.
A bigger disappointment was that someone bid against him to buy Levi in the auction for the trained mustangs that follows the competition, although Miller had made it known around the stables he intended to keep the horse. Some of the $500 he successfully bid could have been used for the $7,500 he then knew cataract surgery would cost, he said.
He did get donations from those at the show and more followed when he entered Levi at a show in Wakarusa and the mustang's story was the subject of a TV news story.

K-State veterinarians removed the cataracts Nov. 16. Levi was to return to Tonganoxie last weekend but further treatment of ulcers on his eyes kept him in Manhattan.
"He has eight students looking after him 24/seven," Miller said. "He's the king of K-State. He'll be spoiled rotten."
Levi won't get around-the-clock attention when he returns to Tonganoxie, but he'll get plenty of attention. Miller was invited to the Nebraska show to participate in an extreme cowboy competition and plans to ride Levi in the competition next year.
"He'll have a busy life," he said. "We both will.
"Our goal is to win the world title next year."