Chieftains senior Miller signs with
BC

volleyball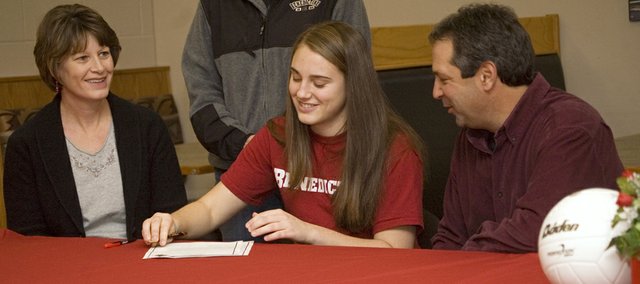 Back when Tonganoxie High senior Danielle Miller was a freshman and a junior varsity member of the volleyball program, she saw five varsity seniors sign to play at the college level.
Nearly three years ago, Miller didn't think such a day would come for her.
It did, though. On Dec. 7, Miller, now an accomplished, all-league player, signed a letter of intent with Benedictine College. Considering how far she has come since her freshman year, the signing day was a big moment for Miller.
"It feels really good, because my freshman year, coming in and seeing all those senior girls sign and go to college, that wasn't really something I thought I was going to be able to do," she said. "So to actually be able to do it and have this is really special to me."
After all those talented seniors departed, Miller quickly became a key part of the program. She began to make her presence felt as a sophomore and when her senior season came to a close she had 2010 totals of 156 kills, 124 digs, 108 blocks and 39 aces.
She said playing such a crucial role on the team as a sophomore helped her development and led her to become a college-level player.
"My sophomore year, I came in and it was pretty much a whole new team that hadn't played at the varsity level, so that really pushed me a lot, I think, to better myself as a player, because we needed people to step up and play," Miller said.
The Tonganoxie senior had considered Benedictine as a college destination even before she knew volleyball would be in the equation. Her uncle, Father Meinrad Miller, works in the college's theology department and her familiarity with the Atchison campus made it an attractive choice.
Finally, Miller went online and filled out a recruiting from on the volleyball team's website. She soon received an email from the coaches and found out they already had video of her playing, because they had attended Tonganoxie's match against Atchison.
From there, Miller set up a campus visit a couple weeks later and when she got a chance to meet the team and play with the Ravens it was enough to make her want to sign with BC.
"I like the girls," Miller said. "I liked the atmosphere and the tone of practice."
Once she graduates and moves on to Benedictine, Miller said she has simplistic goals for her college playing career.
"I just want to play," she said, noting the program has a junior varsity team. "If it's JV or varsity, it's OK with me. I love volleyball, so just the chance to keep playing is what I'm looking forward to most."
It is an opportunity she will cherish, because not too long ago she didn't know it would be possible.