Event fit for queen
Madrigal royal subject has seen every Feaste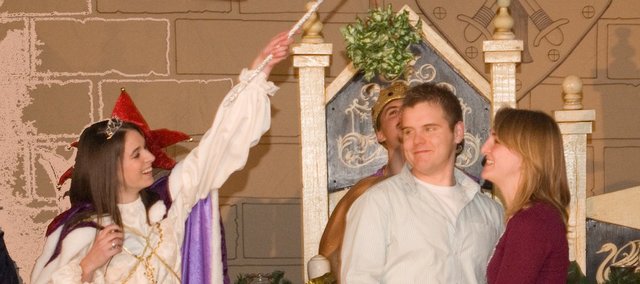 Ashley Stockman has gone from peasant to queen.
The Tonganoxie High School senior played the role of a peasant at the Madrigal Feaste during her eighth grade year. On Friday and Saturday, in this, her senior year, she played the part of the queen at the annual event.
Stockman joined vocalists from THS and Tonganoxie Middle School as they displayed their singing abilities throughout both performances of the Madrigal Feaste, which is meant to emulate a feast given by royalty in 15th or 16th century England.
This past weekend's performances marked the ninth installment of the event in Tonganoxie, and Stockman has been part of every one.
She credits her grandmother, Carolyn Day, accompanist for the high school and middle school vocal music departments.
Day and former vocal director Joyce Steeby were involved in feaste productions at Kansas City Kansas Community College and introduced the event in Tonganoxie as a major fundraiser.
"I have always loved Renaissance time," Stockman said.
She tagged along with her grandmother for the first Madrigal Feaste when she was 8 or 9, Stockman said and dressed up as a little princess for a few years. She then helped out with the Madrigal Feaste for a few years.
"I watched every show until I was finally able to be a part of it," Stockman said.
Roughly 40 volunteers, comprised of parents and other helpers, assist with the event each year.
Saturday night, volunteers worked in the kitchen and elsewhere while some vocalists were servers for the dinner.
Director Tom Gifford, also dressed in Renaissance-era replica clothing, roamed the "castle" making sure each course of the meal was getting to the night's guests. And, of course, he directed his choirs later in the evening.
There also was audience participation. For instance, guests were selected to participate in a lively singing of "Twelve Days of Christmas."
There also was a "knighting" of David Falk for building new stages and tables and birthday wishes were given to princess Caila McPherson, who turned 18 Saturday.
Stockman led a celebration of another milestone Saturday, one which she said was quite impromptu.
Her cousin, Chuck Riddle, proposed to girlfriend Alicia Osborne earlier Saturday. Stockman summoned the couple to the head table to announce the couple and a mistletoe ball was brought out for a required smooch.
"That wasn't planned," Stockman said with a laugh.
She said the mistletoe ball had been used some years by maidens who sought out couples in the crowd for traditional kisses under the mistletoe.
The masque, or short play, "What Dead Carrier Chicken" was performed with several lines that had the crowd laughing. The court jester, played by Elliott Brest, even had a present-day jab for the audience.
He asked whether there were any University of Missouri fans in the crowd.
When an arm was raised, he said he would be sure to tell the jokes slower.
Chieftain Singers made up the Royal Court, including Bryson Hewins as the king, Lacie Falk as Maud, Madison Hunter as Prudence, Tre Hesselman as the Fairy Godfather, Rachel Sparks, Taylor Clark, Jonathan Duvall, Bobbi Lindsay, Dominic Pitts, Wes Williams, Christa Firuccia, Caila McPherson and Keith Slater as the courtiers.
Saturday marked the final Madrigal Feaste performance for several Chieftain Singers, including Stockman. But she plans to continue being part of the festivities.
"It was really hard," Stockman said about being in her final performance. "It ended really fast. I remember being little and couldn't wait to be in the Royal Court. "And now it's over. I wish I could be in it another year, one more time. I'll still be there to help out."