Staff surprises chief with award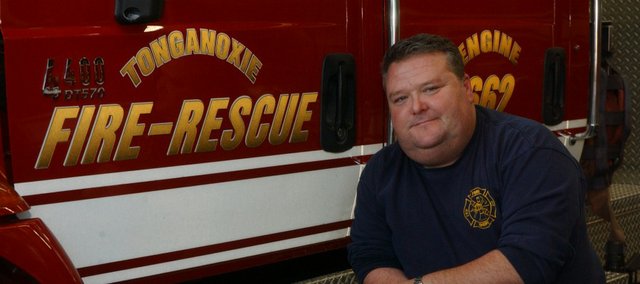 Tonganoxie Fire Chief Dave Bennett thought his department should forego naming a firefighter of the year during a 12-month span in which so many excelled.
"We had so many people working hard and going to school, I didn't feel comfortable naming just one person," he said.
But there were those in the department who felt differently. The one person deserving of the award was the chief, said Tammie McCutchen, a full-time firefighter with the department.
"Normally, he does all that," she said. "He chooses the firefighter of the year based on performance. He's always said he would never be firefighter of the year as long as he named the person.
"When he decided there wasn't going to be anybody this year, a few of us jumped on the chance to name him."
McCutchen and her co-conspirators enlisted the help of Mayor Jason Ward, who named Bennett firefighter of the year Saturday evening at the department's annual banquet.
The award was deserving, Ward said.
"His staff got together to do that for him," the mayor said. "It was much surprised and deserving. He's a great, great chief. He's done a lot to train the young firefighters down there."
There is deep appreciation in the department for Bennett, McCutchen said.
"He's always willing to go an extra mile for the fire department," she said. "If there is something we are after, he will fight tooth and nail to see that it's worked into the budget so that we can get it."
But being a good fire chief requires more than preparing budgets, and it is in attracting quality people and having them all work toward a common goal that Bennett excels, McCutchen said.

"Down there because you have so many personalities, that is the hardest task," she said. "I don't know how he manages it, but he does it. He kind of has that motto of once you hit the door, you leave your attitudes at the door. We've always followed that. We've always got along."
Bennett led by example in that regard, McCutchen said.
"Fire chiefs wear white hats," she said. "Dave's is far from white. It's just as dark and dirty as the firefighters' helmets. He doesn't ask anybody to do something he won't do himself.
"There's not one person down there who would second guess one command he gives them. He's very confident in his command. They would follow him anywhere."
Bennett joined the department — which has four full-time firefighters, 25 part-timers and four volunteers — in December 1986. He was named chief in 2002.
As is the case with many departments in the recession, 2010 was a year of maintaining the current level of service, Bennett said.
One disappointment was the delay in starting a planned fire station update. In October bids for the project came in more than the $200,000 available for the project, which would add three bunkrooms, two bathrooms and increased space in the station's work bay.
"We've regrouped," Bennett said. "We think we have another plan that will bring it in under budget. We'll be bringing that to the council after the first of the year."