Community bonds
Tonganoxie students build relationships with young, old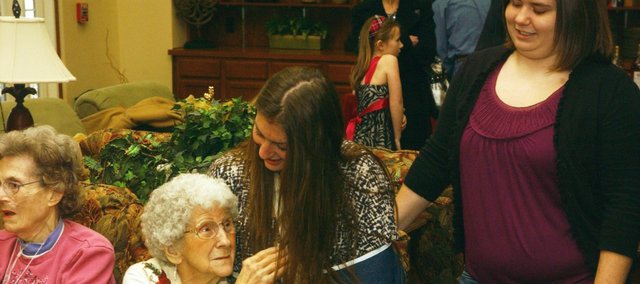 Molly O'Hagan sat Saturday on the arm of a sofa next to Dolly Mark, their hands laced as tightly as the spelling of the last four letters of their first names. Between shared laughs and conversation, Mark would occasionally caress or peak closely at O'Hagan's long hair.
It's about what one would expect from two schoolgirls, but more than two generations separate Vintage Park resident Mark and Tonganoxie High School senior O'Hagan, who was attending Vintage Park's Christmas party with others in the leadership class Brandon Parker teaches at the school.
O'Hagan said she and Mark always shared laughs during the weekly visits she and 10 other students in the class make to Vintage Park. Mark tells stories about her teenage years and of horses, an interest they share, O'Hagan said.
Mark said the visits reminded her some things were timeless.
"I'm excited when they come because they are so much fun," Mark said. "Times have changed, but kids are the same."
The students' weekly visits gave the residents something to look forward to and kept them engaged, said Deborah Barber, Vintage Park director. The students shared a contagious youthful energy and an intimacy that lifted the spirits of residents, she said.
"The kids are very comfortable with touching," she said. "That touch is important to the elderly to keep them connected and make them feel loved."
The students benefited, too, Barber said, by building relationships with those outside their normal circle and getting a larger sense of community.
While some very worthwhile community-involvement activities available to students emphasize service projects, the high school's leadership class is about people, Parker said.
"They're making an impact based on relationships," he said. "We feel we can make the biggest impact by being hands on with people."
The emphasis has students visiting Vintage Park and Tonganoxie Elementary School, where second- and third-year leadership class members spend one-on-one time with students selected by elementary school staff.
Senior Rachel Collinge said the one-on-one visits were her favorite part of the class, although they were initially a challenge.
"I'm not very outgoing," she said. "The class makes me go out of my comfort zone a little bit and not be as shy."
In their weekly visits to the school, the class members are matched with young students elementary school staff thinks would benefit from the one-on-one visits.
"I think all the kids we're working with one-on-one are going through some kind of struggle," said senior Alex Hauk. "You go in and make their day. They can think about that and not about what they are going home to or what they are struggling with."
Class members hear heartbreaking stories as the youngsters share things they aren't comfortable telling their teachers, junior Jonas Myers said.
Leadership class students benefit, too, Hauk said, with the understating not all shared their sheltered lives.
The high school students said they wanted to continue meeting with their younger students when taking the class for the third year or continue the friendship independent of the class.
"I love it when the kids see me when I'm out in the community and say, 'Hey Haley what's up?'" said junior Haley Smith.